Yesterday I had the pleasure of acting as a de facto judge for a so-called design slam. Everyone was invited to attend the presentation of a surprise design challenge by a group representing an actual client. You and your randomly-assigned team would have two hours to develop, and later present, a complete design "solution." The best part? No computers allowed. (See Flickr photos.)
Avi Soudack is credited with coming up with the design brief: Redesign Toronto's hated Eucan megabins (q.v.).
I handed over a CD-ROM of all my files, including photos; Bryce published another set of photos, helpfully including measurements (a great idea); and Carsten produced a one-page problem statement.
Taking place in Navantis's vast kitchen, complete with two fridges, a dishwasher, a broken espresso machine "that cost as much as a car," and a working washer and dryer, the roughly 30 attendees were randomly assigned teams based on the designs of four kinds of children's decals. (One of them is still hard to pin a name onto: Japanese Air Guitar? Japanese Guitar? The others were Piggybank, Baobab ["Your favourite author is Antoine de Saint-Exupéry"], and Swiss Cheese.) When design time ran out, teams had a resolute limit of 15 minutes in which to present.
Judges scored each team out of ten possible points on each of three criteria, save for the mayor, who allocated up to ten points according to unspecified criteria. Team Swiss Cheese won, but not by much. All teams scored each other, too; I have all the scoring sheets and will publish the results.
Factoid: Two teams, without prompting, mentioned accessibility. I didn't score that criterion, but if I were in charge I'd hire them first.
Spacer

for a day

Apart from being on my feet for three or more hours while participants got to remain comfortably seated in Karim Rashid Oh chairs, I had a great time. I'd love to do it again, but only as a judge. I'd be terrible on one of the teams. I have a lot of respect for their ability to pull themselves together as complete strangers and present something coherent.

By far the most delicious detail of the afternoon was my role as judge. Four of us acted as a proxy client, with a mayor, one person each from the city's waste-management and marketing departments – and me, playing a city activist belonging to a group almost exactly similar to, but not actually, the Toronto Public Space Committee. Yes, I was a Spacer for a day.

In fact, here I am with a photo of a megabin projected upon my face. It was my contribution to conceptual art for the day.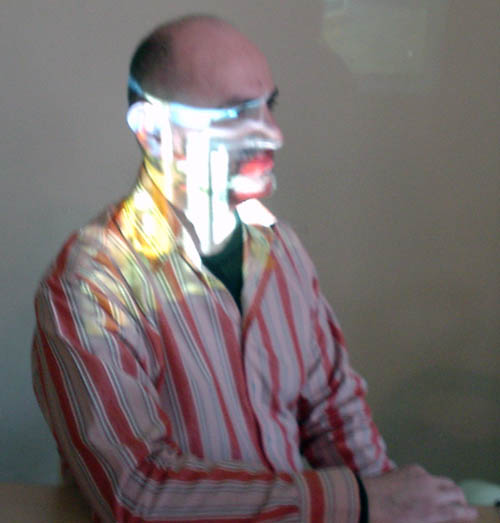 I didn't set out to inflame Spacer passions, but if they lose their shit I'll be fine with that. And of course I specifically did not publicize this plan beforehand. Actual Spacers could have attended if they wished; I'm sure they read the notification of it on hipster blogs. They could have come along themselves, and we could have reënacted Paul Giamatti playing Harvey Pekar in the latter's presence.
I'm pretty sure I was even better than the real thing anyway. The city marketing proxy stated that he wanted advertising revenue maximized (though the PowerPoint slide deck – yes, we used horrifically realistic presentation tools – also merely said "revenue" at one point). I told everyone they could not receive a perfect mark from me if they used anything resembling traditional advertising, and that I already had three ideas on mind for revenue generation not involving advertising.
At various moments, I visited each table and told them that, since this charette was meant to be as realistic as possible, I would be open to swinging a backroom deal, each of which they could expect to be different from other tables' deals. "What have you got for me?" Eventually two tables came up with ideas I liked, but nobody had the presence of mind to ask "What do we have to come up with to guarantee a perfect mark?" Rather like the real Spacers, these designers are too honest and by-the-book to get actual shit done at City Hall.
There was certainly an effort, in two of four cases, to attract revenue in some way other than signing a contract with a foreign national to sell billboards disguised as garbage cans. I also consider a smashing success the range of industrial-design solutions presented. It seems that any intelligent person (or groups of seven or eight at a time) can come up with a viable redesign for a garbage can.
So what's everybody else's excuse?
Lessons
Spacers

aren't the only people who care about megabins. Other people care enough to revolve an entire design process around megabins, and 30 further people worked for free to fix the problem.
The industrial design of the current megabins is in no way top-of-line and is provably not the most rational, ergonomic, or cost-effective way to collect trash from pedestrians. We now have four other ways to do it.
Eucan could have done better. So could the city.
A complete commercial redesign of the megabins is obviously possible at low cost, since viable prototypes were sketched out in two hours at no cost. Commercial redesign isn't even necessary, since none of the teams even implied that anyone other than the city would design, manufacture, or install the bins.
In essence, the suitability, worthiness, or inevitability of any configuration of today's city garbage cans was disproven once and for all. Volunteers have shown they can do better in their spare time.
Let's do this again as soon as possible.