Spacer alert: Those noxious and unnecessary advertising vehicles known as Info-to-Go posts have won an award from the Society for Environmental Graphic Design. While this development has already been covered by a foreign-owned city Weblog, it wasn't covered in enough detail. Shall we fisk the award and jury statements?
Info-to-Go addresses Toronto's need for a self-financing tourist and resident wayfinding information system that can be deployed citywide, with custom district mapping.
There was no such need. There was no public clamour whatsoever for any of the following:
maps
maps for tourists
maps for residents
any of the above deployed citywide
any of the above deployed in a "self-financing" manner, that is, covered with ads
If proponents insist there was such a need, it's up to them to prove it. Where is the documentation?
It is impossible to recognize these pillars as information posts when viewed from the likeliest direction, viz. the high street. In addition, every Info-to-Go pillar I have looked at claims to provide a map of the neighbourhood. Every pillar instead provides a map of part the old City of Toronto.
This pillar, located at the edge of Kew Gardens in the Beach on a paved-over corner of parkland, suggests that Toronto ceases to exist east of the DVP.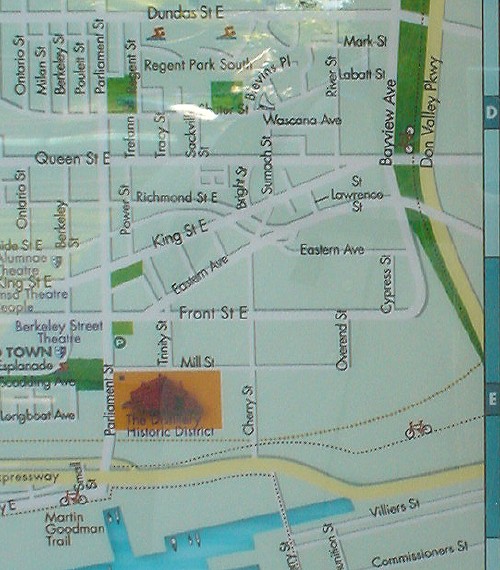 This innovative approach is further emphasized by implementing a three-sided display system, two convex faces, and one concave face to welcome and invite the user .
The convex faces carry ads (the one at Nathan Phillips Square ran a swimsuit ad for much of last winter) and are the only surfaces intended to be seen. The convex face is hidden from view by definition and by design. Just as megabins are billboards masquerading as garbage cans, Info-to-Go pillars are billboards masquerading as info kiosks.
text-based LEDs for weekly public notices and upcoming events
I've seen exactly one of those (at Nathan Phillips) and all it did was welcome us to Nathan Phillips Square.
a push-button audio system that broadcasts historic facts about each district location; public seating; and revenue-generating ad panels that capitalize all project costs.
The audio has never worked in any pillar I've looked at. (The map-vending function, which is dubious in itself, doesn't work either.)
There are no seats whatsoever.
We didn't ask for these pillars and it is disingenuous, if not infuriating, to claim that "all project costs" are "capitalized" by "revenue-generating ad panels." I would prefer a complete absence of this revenue if it meant getting rid of these pillars.
All locations were designed to provide barrier-free accessibility.
Well, what does that mean? They aren't located on staircases? The billboard poles aren't barrier-free at all, since blind people can't use them. I gather the designers forgot that not all disabled people sit in wheelchairs.
Jury comment: "Unique in that the visitor or resident of Toronto can easily wayfind using either static maps, pocket-sized maps, or text-based LEDs – or discover historical facts through a push-button audio system. The system is easily recognizable through the use of branding as well as the visual icons placed throughout the city. A great use of multi-media and graphics to facilitate wayfinding and provide information."
Well, where do you begin with that?
"Wayfind" isn't a verb.
The maps don't "wayfind" you within the neighbourhood in which you are situated. The maps are concealed from intentional view.
The LEDs are not maps.
The audio doesn't work.
By "recognizable," the jury surely means "visually intrusive." The icons are in fact difficult to notice.
Torontonians' and visitors' wayfinding did not need facilitation and we did not need this information.
The worst part? The malefactors behind these insidious stains on the urban landscape can now accurately boast that Info-to-Go pillars are "award-winning." They still stink and need to be removed. Info-to-Go? Info-Must-Go, more like.