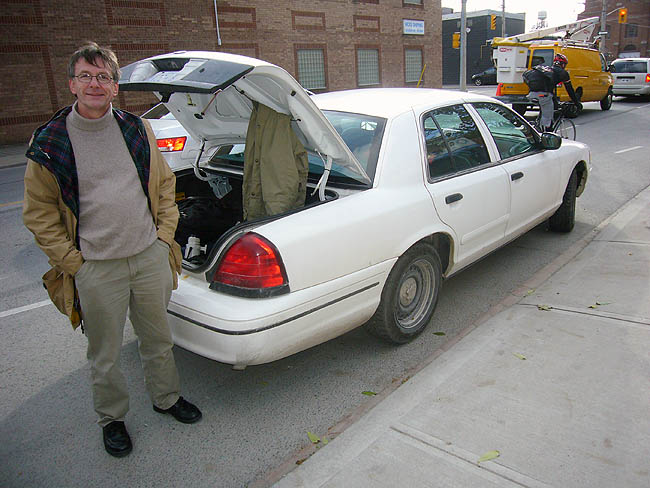 Here's Peter Redman, Tubby staff photographer since its inception. We were supposed to meet at the Hell's for a photo shoot to accompany a miniprofilette of me in the paper. I was walking down Eastern and saw an extremely obvious unmarked police car do a U-turn into position right in front of the Hell's Angels. I nearly lost my shit. Are they tapping my phone? Cops are staking out my photo shoot? But the Hell's got busted. The place is a ghost town! What's the problem? I vaguely thought it might actually be the photographer.
I calmly walked on by and killed time in the Weston outlet store. (So much white bread at such a discount!) I walked back via an alley, noting that the bizarre postmodern pods would be a better site. I rounded the corner and waved to what was obviously a photographer, went up and said hi, then suggested we get away from the extremely obvious unmarked cop car.
"That's my car."
"What are you talking about?"
"It's my car."
"You are seriously not shitting me?" I asked. "Isn't that obviously a former taxi or cop car?" It even had a hole in the trunklid where the oldschool antenna used to be.
"Here, I'll open the trunk," he said, revealing a pile of photo accessories and all sorts of jackets and cold-weather gear.
Sheesh.
Who are the worst photo subjects, I later asked him? Surely not celebrities, because they're used to it. Nope: "Businessmen." Because they're control freaks, plus they're made of parts from a kit. What about businesswomen? "No difference, really."
The photo that ran had me in front of green garage door.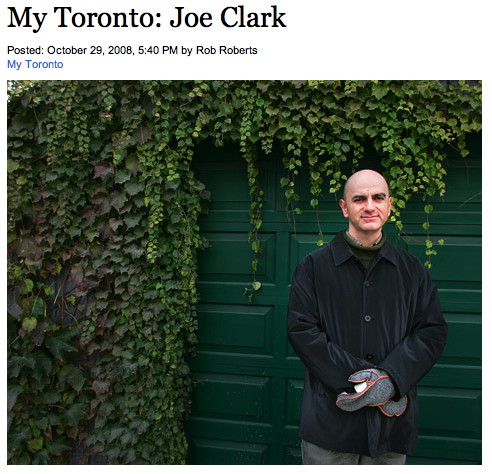 I was hoping for the pods.