The "new" South Africa won the gold medal in the men's 4×100-metre relay in Athens. Ryk Neethling, one of the swimmers, presents this photo on his site, without crediting the source (apparently AP):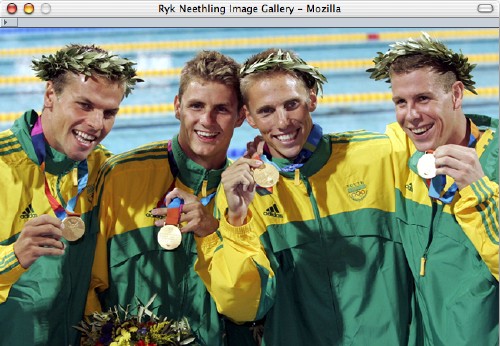 I don't suppose anyone noticed that a country whose population is overwhelmingly black is represented by four blond-haired men? Now, maybe these fellows have brown hair in wintertime or whenever they're out of the sun for long periods. Nonetheless, they're blond now. What century is this, let alone decade?
(Of course, a lot of people think blacks are no good at swimming; read Jon Entine's book for a discussion. But "black" isn't the only alternative. South Africa is a multiracial society.)
I'm up for some T-shirts we can wear in the stands at swim meets: FOUR NON-BLONDS IN 2008!