I turned my many visits to the Toolbox into an entire diary lo those four years ago. But when it closed in August '04, I was quietly gratified.
Of course it was a mainstay of "the community," but the plain fact is that the Toolbox was about as desirable as two of its three neighbours (a shanty and the Hell's Angels). The superannuated, embittered couple who ran the place took out their frustrations – sparked by the slow decline of their bar after the cops raided Naked Night – on the actual customers.
Then again, they didn't consider me a "customer." I didn't buy their booze, their Coca-Cola, their bottled water. This, you see, was their fatal flaw and not, as it might seem, my own. Though the Toolbox hosted euchre nights and a dance card full of other events no other bar would touch, its proprietors failed to understand what their own schedule should have told them: What they're selling is hospitality, not beer. (Indirectly, I heard they also complained about the bears' gatherings, where sales were also down. Bears, it was claimed, have the addiction of food rather than the typical twink addiction of alcohol.)
I read that the Litterbox held an auction of its memorabilia and contents, which, if you exclude the pointless collection of license plates (wow, the Territories' is a nanook!), was a comprehensive time capsule of AIDS campaigns and gay "community" advertising in Toronto. Plus they were nonsmoking for years, as all bars now are and shall permanently be. I miss those details, which I can only view as trifling and expendable.
What I miss more is having a local queer bar. I just don't want it to be the Toolbox.
Now, has an opportunity suddenly come up that gay entrepreneurs will, with our luck, be too stupid to seize? Yipper.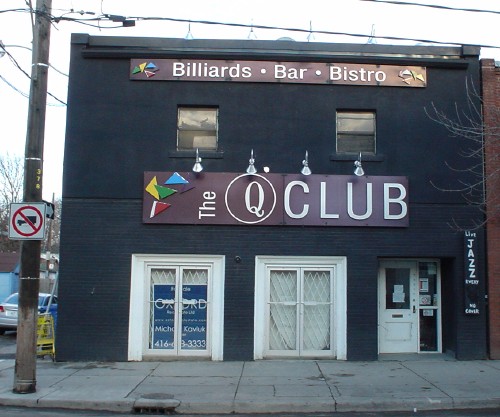 The recently-renovated Q Club on Queen west of Coxwell has gone mams-up, and they didn't even need a biker den down the road to cause it. Whatever the reason, while the corner of Coxwell and anything is admittedly at the extreme limit of acceptability for a local bar, so was Eastern Ave. south of Queen. The place is almost wheelchair-accessible, has an existing license and fixtures, and already has coloured triangles on its signage. And a giant letter Q in its name. What are we waiting for – a singing telegram?
Please, someone, spend the money and reopen Q as a neighbourhood queer bar. Please-please-please. Please don't blow the chance. Take over the lease – and learn well the lessons of the crusty and corrosive old men who busted their own Box.