Janko Naglic owned the Barn, the biggest gay bar in Toronto. He was murdered October 27, 2004, his body found in his kitsch-bedecked home. I never met him and I couldn't stand the place, but this is the second unsolved murder of a gay man in the last four years. We aren't living in Zimbabwe; two murders are a lot. (Separately, I know two guys whose boyfriends were murdered, and another whose died of misadventure. It's one of my issues.)
Anyway, there was much press coverage of the auction of the contents of Naglic's estate, which took place yesterday. I usually never miss an opportunity to miss an opportunity, but somehow I got down there and found myself surrounded by women of a certain age and that particular genre of decrepit, grey-skinned, unkempt old queen who has long since dedicated his lonely weekends to the collection of lovely little things.
So what the hell were they doing here? Janko's taste was atrocious. Push the pair of snakeskin pants out of the way and it's elephants, elephants, elephants everywhere!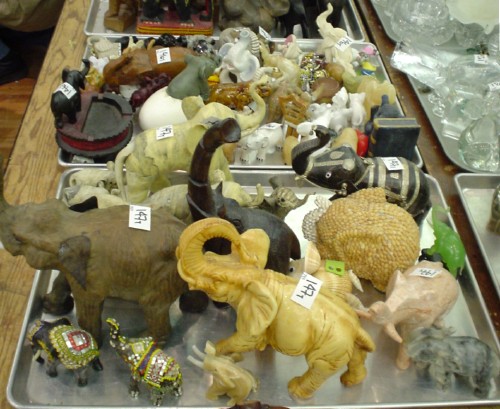 The auction listing was a symphony of 12-point Arial bold capitals, making it ever so easy to read. They forgot the headline, so somebody resorted to bleeding-edge Sharpie technology to write in THE ESTATE OF — JANKO NAGLIC up top. (Or NAGLICK, as it was listed on their spiffy Web site.)
I missed jotting down a few figures, but the first 106 items (out of 419, of which some 20% were from lots other than Naglic's) pulled in about $8,800, with prices from $10 to $900. (The house adds 15%, and then there's tax, so add 30% to any winning bid.) The total haul will have been much higher, given that the many paintings, gilt mirrors, expensive inlaid chests and armoires, rugs, and gaudy whore's-drawers armchairs were auctioned later in the day. There were a few telephone and "book" bidders supplementing the 40 of us in the room.
It was almost touching to be reminded that we actually have words for trinkets like these – figurines, candelabras, candlesticks, jardinières, obelisks, biscuit barrels, paperweights, decanters, stemware, flatware, bud vases, jelly moulds, hutches, birdbaths, urns, étagères, and, above all, thimbles. It was genuinely touching to view a pair of tiny bird figurines in deep blue, eliciting a thirty-year-suppressed memory of the similar beloved menageries on display when I was a boy.
The very young auctioneeress handled herself apparently well on the platform – except when caught off-guard, at which point she reverted to sounding like an irritable valley girl ("Yeah, I know"; "What did I say?"; "Anyways"). I loved her little banter so much I jotted it down.
"A nice decorative piece"
"Token of the estate"
"Well bought at $50!"
"20? Oh, I mean $700? $20?"
"A nice souvenir of the sale, I must say" (

FRAMED MATCHBOX FROM LES CAVALIERS RESTAURANT IN TORONTO

)
"A décor piece. I'm sure it would look great in any home" (

MINIATURE DECORATIVE CAROUSEL HORSE ON STAND

)

TORTOISE HEAD MOUNTED ON WOODEN SHIELD

"is my favourite lot of the sale…. Gosh, where do we start this one? $20?" (It was an actual tortoise head. I nearly hurled)

PAIR OF BLUE JASPARWARE SALT-AND-PEPPER SHAKERS TOGETHER WITH FORK AND KNIFE

– "don't see those here very often"
"25 in a new place"
"15… we've got an auction!"

TWO BLUE MOUNTAIN POTTERY ELEPHANTS

TOGETHER WITH CAMEL

: "Did you know the ROM just got a collection of Blue Mountain? It's collectible!"
"Part of Mr. Naglic's fine collection of elephants"
"Thank you for your generous bid, sir. I'll take your $5"
The right-wing media were out in force (with shooters from Global, the Tubby, and the Stun). While I missed a few choice shots – like the infamous Jesus statuettes walking on water, and certain figurines – I did capture a few priceless images of Janko's priceless artefacts. "You'd get a better picture of yourself if you took the statue away," said a wiseguy as I took a mirror shot. Yeah, this whole auction is about taking stuff away.
At one point, a rumpled, ponytailed codger of indeterminate European extraction swanned in leading a wire-haird dachshund on a leash. (It seemed everybody had a ponytail, including that retiree with the red shirt and form-fitting leather veston.) As I chatted him up about his dog, I found that he smelled of peanut butter. Don't elephants love peanuts?