Another in a series of postings on CBC captioning (also see the separate page on the topic)
Antonia Zerbisias covered my study on CBC captioning deficiencies (q.v.). An Anonymous Coward, who may have frequented our Webstandards.TO meetings, wrote:
Joe Clark's "study" amounts to no more than a cobbled-together collection of Post-It Noted complaints. There's a reason why Clark will never be employed in any manner other than preaching to the converted at the Web-standards conferences. No one else enjoys hectoring by an abrasive know-it-all with negligible social skills.
At least I can spell, unlike this critic, who goes by the name Another Casuality of the Joe Clark Experience.
Meanwhile, over on CBC Watch, one reads virtually the same complaint – and an additional one by the same author or moral equivalent:
Whew! I was wondering when Joe would mention that he's written a book. He's written a book, don't you know, on accessibility. And he's an expert in all things Macintosh. At least, more expert than anyone else. I'm surprised he didn't mention that, too. Did I mention that he's written a book? Because if I don't, he will.
The obvious course of action, apart from writing my own witty rejoinders on those sites, is to employ myself in some manner or other. How about modeling with a PowerBook, the Hebrew translation of Building Accessible Websites, and a Post-It Note attached to captioned CBC coverage bearing the legend I ♥ CBC CC?
Wouldn't that make a great picture? And wouldn't it employ me in some manner?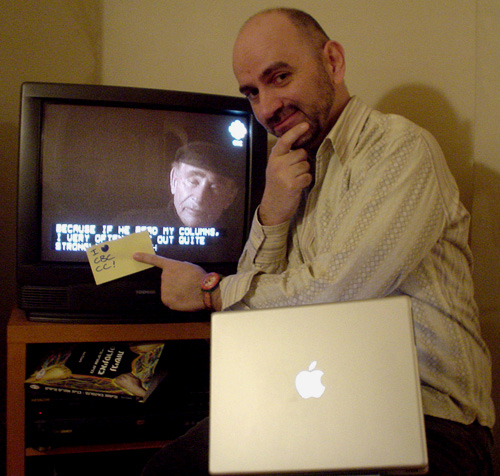 Gainfully employed, wouldn't you say?
Remember: "It's no use trying to rent you, Oscar. You just laugh it off."