Mayor David Miller, photographed at that Canadian tradition, the New Year's Day levee: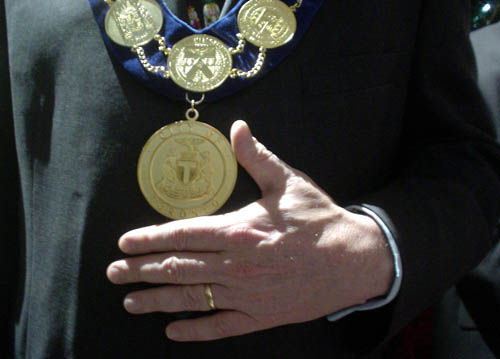 We're in our third year of an era in which it is suddenly OK to like Toronto. Hitherto, there were two related schools of thought, namely "All the really talented people move to New York" and "New York is better than Toronto." Well, yes, New York is better at being New York than anywhere else, except when Toronto is just as good at being New York in movie shoots. And indeed many did move to New York.
But then people decided to acknowledge what was right before their eyes and began to discuss unique Toronto features. Spacing magazine (q.v.) exists largely to articulate these unique features. My own shortlist includes proximity to Lake Ontario (a de facto ocean), all-around convenience, and strong neighbourhoods.
The problem is that Spacing types – the Spacers – think that only their neighbourhoods are unique and interesting. They wouldn't live anywhere else and none of their friends do, either, leading to a kind of neglect of the rest of the city, particularly the east end.
Hence my new site, many weeks in the making and superexclusively revealed on Paved: The Free City of Leslieville. Leslieville is a neighbourhood inside a district inside a city (it's part of South Riverdale, Toronto). It's had a lot of problems, like decades of environmental contamination, but what I am trying to put an end to, single-handedly if necessary, is the bigger problem of neglect.
I'll be offering articles and links about my hood, but of perhaps greatest interest (it's certainly the funnest part of the site) is my friend's and my ongoing series of social-housing critiques. It all started when some middle-class busybody got up in a meeting and complained about the "nine" social-housing buildings on Queen St. I found her whining rather pointless, as neither the buildings nor their residents is going to leave, but what about the buildings themselves? What are they like? Hence the site's signature section, Housing the Proles of Leslieville, or Joe & Ian Do South Riverdale.
This is the single biggest Web-development project I've ever taken on and it was a bit of a nightmare. (More on the development process later.) Nonetheless, I am fairly bursting with pride. Yes, dear readers, you may have met me in such far-off metropolises as Sydney, Brighton, or Dallas, but I run the whole empire right from here.