The long years of living in an unfashionable neighbourhood have finally paid off: We gots our own Winnersss.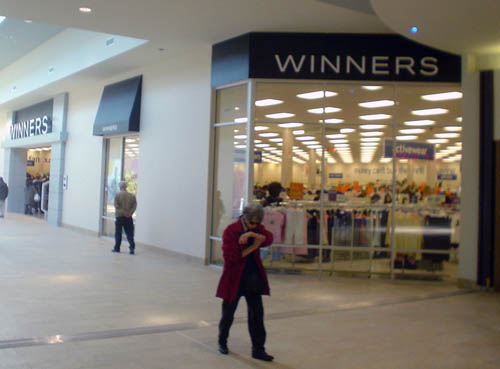 It's part of the slow rehabilitation of Gerrard Square ("Gerrard Scare"; "Jurassic Square"). I decided two years ago to simply get over myself and accept that this dowdy '70s leftover, with its unremitting bad taste and unremitting impoverished clientele, was simply my goddamned neighbourhood mall and that was that. Besides, it was convenient to have a dowdy '70s holdover Sears store in the hood (almost nobody bought electronics there, so the scratch-'n'-dent was a steal year-round), not to mention a Radio Shack and a lousy low-end grocery store with an array of ethnic foods.
It's better now. Let's not waste each other's time with tired reiterations of the word "gentrification," or any claim that an improved mall will "drive" poor people "underground." It ain't gonna happen, if it ever does happen or if it even exists as a phenomenon. The place will not stop being a dump and will not cease to be home to unexplained piles of overpriced dowdy '70s holdover hardcovers and paperbacks. (Hardback Stephen King, Arthur Hailey, and Linda Goodman's Star Signs are not worth seven bucks each, especially since you'd also be bringing home 30 years of some other home's must.) The mall has, however, gotten much more useful, with an actual Homo Depot (much was made, in the print press, of the homosexualist store manager); a Staples ("Staplesss") that has not quite adapted to a Mac-heavy clientele that uses FireWire; and now, finally, a Winnersss.
If I may paraphrase a photo spread in a local homosexualist fortnightly, JOE LOOKS LIKE A WINNER! HE CERTAINLY SHOPS THERE! I outfitted half my kitchen at that place; Lagostina for $16 cannot be beat. It's actually better than the McGregor outlet store for socks. It's the source for shirts that embody the combination of lowest price and greatest number of favourable comments ($26 shirts outclassing $126 ones, something I still cannot figure out). I have a whole system of towels and rags for keeping my house clean, all bought for under seven dollars each at the Winnersss. And you've never in your life seen a gayer place in cold light of day than the Winnersss at Parc du Collège.
Now we've got one here. Brilliant strategy, actually: It forces the South Riverdale poor, who look like '70s holdover Bayman truckers, to dress better on nearly the same budget, yet also gives the Riverdale upper middle class a place to shop that requires transcending the minor psychological barrier of Gerrard St. rather than the major one of the Don River.
So of course Antonia and I had to do the grand opening. Here is what she looks trying on a shoe, in a moment she denied was carriebradshawesque.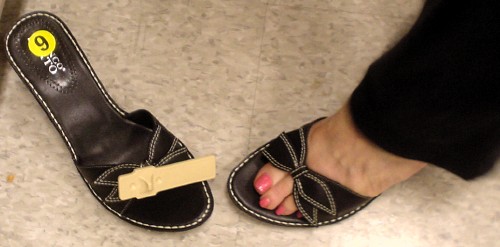 It had been a strange day of sitting in the mezzanine of Balzac's writing interventions to the CRTC chiefly concerning captioning while watching an apparent deaf woman and her apparent hearing coworker signing away downstairs. Here Antonia and I were talkng about accessibility and business as a wife demonstrated a blouse she liked to her blind husband (complete with dark glasses, folded-up white cane, and entirely absent fashion sense).
We also had a little game of spotting heterosexualist males who weren't executives down from head office. We topped out at five. Everyone else in the jam-packed store was a wymmynz, a child, or an obvious invert, including one fellow single-handedly waving the flag for that dowdy '70s holdover, the hankie code. (I was not quite able to understand the two pairs of tall, handsome, smartly-dressed Caucasians with short, pudgy, screamingly gay, blond-highlighted Orientalist boyfriend units. But I don't have to.)
Sadly, this well-stocked new store, packed to the walls with new shit you never find at other Winnerssses, had none of the silicone spatulæ and other houseware(s) I was looking for. Antonia scored much bigger, though, and here she is sauntering jauntily past the hopeful artist's conception of the new wing of the Gerrard Scare: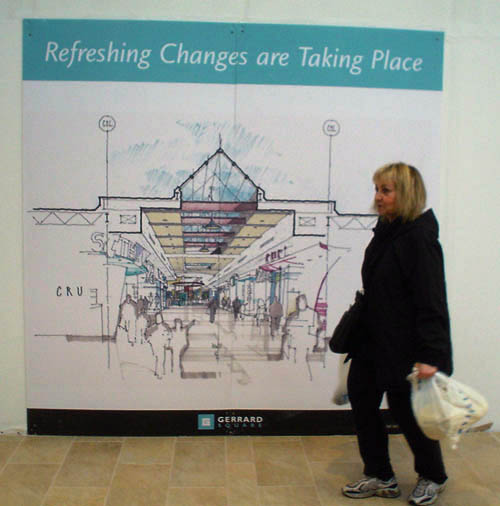 I just wish the store didn't have such shitty fluorescent lights. Even I have limits to "unflattering."