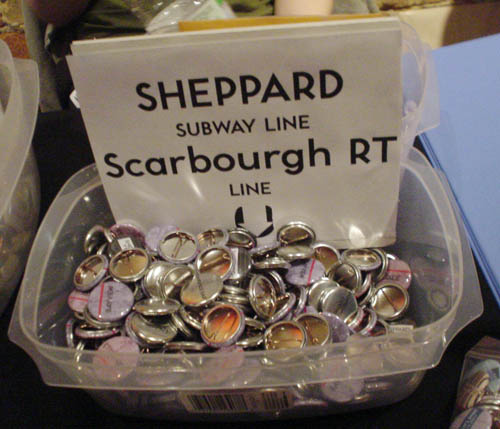 Of course I went to the Spacers' launch last night. I had received a series of E-mails from the current head Spacer (not Dave Meslin) essentially saying "It seems you think we have something against you. I don't know who could possibly have anything against you. Give me the name of whoever said we had anything against you."
Fine. Hatchet buried.
Ian and I stood around, sat, mingled, hovered by the door and the display tables, rested visibly on the stage, stood at the bar, did this, did that. I badge-cruised black-haired Caucasian chicks attempting to ID the head Spacer. I recognized nobody but Javanrouh and nobody tried to talk to me. Not a sausage.
And I am reading the current issue, about Toronto transit. What is the count of neighbourhoods covered?
No specific neighbourhood or several: 25
North: 1
Downtown: 7
Suburbs: 1
West: 11
East: 3
Which new Toronto neighbourhood site was left out of the "Web Sites" column on page 57, while sites from California and the U.K. were listed?
Some things never change. Please try harder next time, people.