I got off my bike and stood in the middle of the sidestreet to line up this shot. "Hey, camera man! Hey, camera man!" I hear (and it's obviously two words). "What?!" I mutter angrily, taking my shot. "Out of the way," says the black streetcar driver turning onto the sidestreet. You can fucking well wait.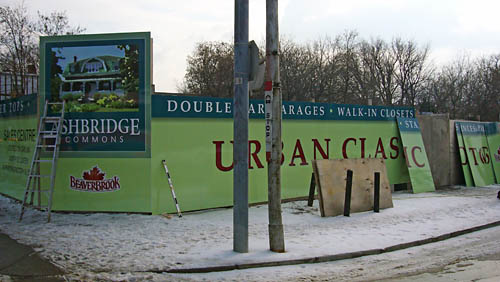 This superklassy development takes the place of a lonely Stephenson's Rental building (more on them anon) on a lot with an enormous dropoff in elevation at the rear. You could build a fallout shelter here and a full suite of tæunhæumes. The resulting Ashbridge Commons™ ("in the West Beach") will be dripping with the kind of refinement and distinction you'd be anticipate next door to a streetcar depot and a block away from a postal sorting plant.
And the red Palatino on green… nice touch. The rest of the type is even worse, with sort of a 1984 LaserWriter Helvetica in use.