They ignore you and try to push through a proposal to make the situation worse.
In January, after immense effort, I appeared before the TTC and proved the easily-observed fact that signage in the transit system is a mess. The commissioners turned right around and requested a report from the TTC: "Commissioner Milczyn moved that staff be requested to report back on the issues raised in Mr. Clark's deputation, including an update on the comprehensive study previously undertaken by the TTC on signage and wayfinding."
At last month's meeting, the TTC handed out a list of uncompleted reports. Mine wasn't on it even though it hasn't been completed. Nor has anyone contacted me or responded to E-mail on the subject.
For tomorrow's meeting, the TTC responded almost immediately to a request, issued by chair Adam Giambrone, for a report on beautifying subway-station entrances. (Note that the report addressing my concerns was ordered by the entire Commission, but hasn't even begun yet.) The provided report proposes to:
invite concept designs at a total cost of $40,000 for eight downtown stations an honourarium of $5,000 per station

[…]

approve an increase in the scope of the Station Modernization Project for the concept designs of subway-station sidewalk entrances…
endorse the review of the design standard for station entrance signs by staff in consultation with external designers
The last point is the real problem, and is ominously described as follows:
taff concur that the current design should be reviewed. As this element represents the subway system at street level, it is the service identity landmark and as such, requires consistency of design. It is recommended that the standard for station-entrance signs be reviewed by staff in consultation with external designers, possibly through the Design Exchange, with a report to the Commission by July of 2007. This proposed process will include a design charette modeled on the recent design process employed by the City for street furniture.
What's wrong with this picture? Well, why not look at a few pictures? As a reminder, here's the "signage and wayfinding" we had to put up with during the February/March '07 weekend subway diversion: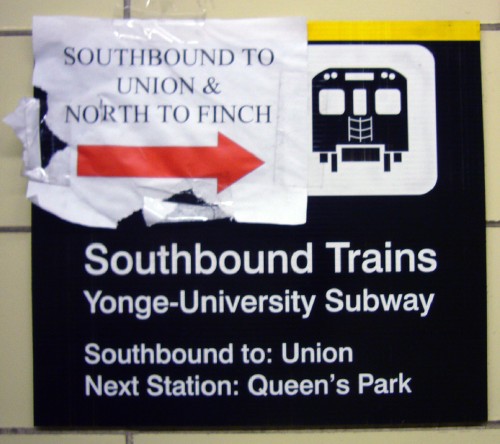 This is the most recent addition to the nightmare of TTC signage. And now the TTC wants to make subway-entrance signage "beautiful"?
Signage is not a question of beauty or æsthetics. Signage is functional. It needs to be designed with intelligence, not at a paltry fee of $5K as part of a "beautification" project. Then, after it's designed, you must test, test, test. (The TTC did that in the 1990s with Paul Arthur's prototype, then so thoroughly ignored the whole thing that, to this day, it still has not bothered to remove the prototype signs from St. George station.)
The flaws in this plan are:
Signage isn't decorative. Don't lump it in the same category with gussying up an entrance.

There are numerous recent TTC designs for entrance signage, and none of it matches (compare Queen and Osgoode). Even the TTC's attempts to match the old typography fail (compare Lansdowne with, say, Chester). We don't need yet another design for just a few stations. We need a comprehensive replacement for all dysfunctional signage.

The Design Exchange is held in low esteem by designers and seems to be of little use other than as a host to design charettes. (Quick: Name three things the Design Exchange has done.)

A charette is the worst possible method of producing functional signage.

There isn't enough of a budget.
You get amateurs adding signs as a decorative final stage to their real project, the actual architecture.
There's no room for testing.
It's a way for the TTC to get eight designs for the price of less than one.
Applicants, who must address architecture and signage, will not be topic experts and surely will have no knowledge of legibility or accessibility.

In short, what you'll end up with are "classy" typefaces, or Helvetica (or Arial, which the TTC cannot even tell apart), or a misuse of the old TTC typeface, none of it tested and none of it matching anything else.

The idea of recapitulating the street-furniture process is alarming. That process is extremely controversial and is based on excluding the public from participation. (If I hadn't attended the first vendor meeting, the public wouldn't even have access to the information the city attempted to distribute only to multinational bidders.) Setting up a process like street furniture's is like naming Henry Kissinger to investigate 9/11. It shows contempt for an intelligent and open process.
This is the same TTC that handed half a million bucks to Jack Diamond, without a tender, to beautify a couple of subway stations. We've got other priorities here. The issue isn't beauty, it's state of good repair, and that has to include properly-designed and -tested signage.
Why is this such a hard concept to get across?