Here's how you perpetuate ethnic stereotypes: You let your son pose on the front page of the biggest newspaper in Canada in full-on Gino mode. (In the U.S. argot, the term is Guido; the Canadian English Gino has the advantage of being feminizable to Gina.)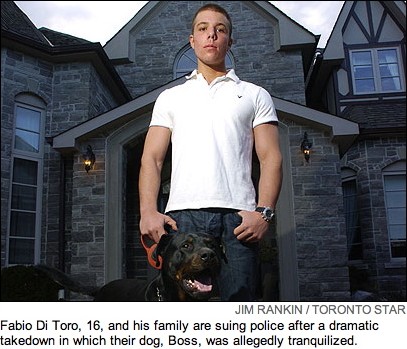 The Del Toros live in Woodbridge, Ontario, home of tacky Ginos with monster homes and Escalades. It says so right in the story, more or less:
A Woodbridge family detained at gunpoint by York Region police in an apparent case of mistaken identity is suing the force for $9 million for negligence and false imprisonment. […]

The Di Toros are also seeking both a verbal and published apology from the force for the incident, apparently triggered after police mistook a black Cadillac Escalade being driven by their son Fabio, 16, for another black SUV that had been involved in a robbery and shooting, the lawsuit alleges. The statement of claim contains allegations not yet proven in court. […]

The family dog
– a giant Rottweiler with a tough name (Boss), just right for a teenage boy who drives an Escalade and works out furiously to overcome his naturally skinny frame –
had stopped barking and the Di Toros say they later learned Emergency Task Force officers surrounding the home had tranquilized the animal. […] Police later told the family that Fabio, who drove the Escalade earlier in the day to pick up some laundry, came to their attention after becoming involved in a minor traffic dispute with another driver…. Police officers released the 16-year-old… but not before an officer scolded him for his altercation with the other driver, the lawsuit claims.
In other words, Fabio is apparently prone to road rage. Again, just the right kind of kid to be given the keys to a V8-powered luxury truck and control of a Rottweiler.
By the way, maybe a look at the full photo taken by Jim Rankin (which I rephotographed out of the paper) will shed a tad more light: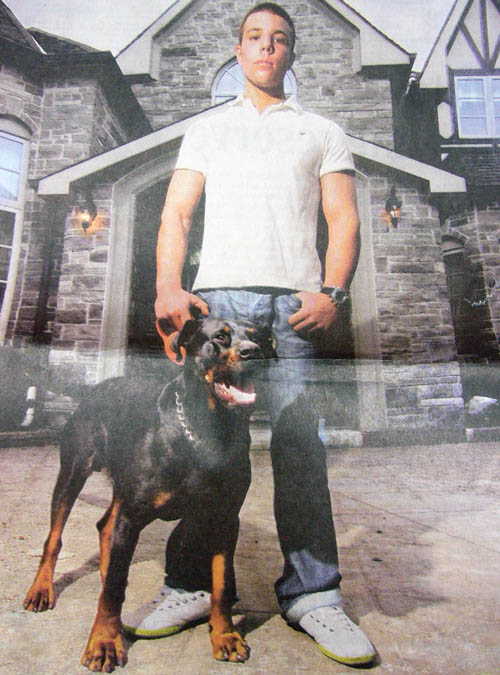 Many of you will be able to note Fabio's defiant stance as he holds his "friendly," but perhaps actually man-eating, Rottweiler on a short leash. (Who's really the Boss?) Note the superclassy monster home behind him. I assume there would be room for well more than a single Escalade in the garage.
Woodbridge is a small and relatively homogeneous community with more than 50% of the residents of Italian-Canadian origin, the lawsuit states…. Since the incident the family has been subjected to "suspicious glances and angry stares. They have been the victims of innuendo, speculation and remarks about their connection to organized crime," the lawsuit claims. […] Robert Di Toro, who owns a construction company
– a typical Gino occupation in Woodbridge –
has had trouble selling any of the homes he's built in Brampton since the incident, the suit claims.
If you don't want to get mocked as a gay stereotype, don't sashay down the boulevard with a frilly scarf and a Gucci shopping bag. Similarly, to avoid mockery as an Italian stereotype, do not:
Give your son a three-word Italian name
Offer him control of a vicious dog breed
Allow him to give the dog an aggressive name
Hand him a blinged-out truck typically associated with rap singers with prison records
Nonchalantly report your own son's apparent road rage
Situate yourselves in a monster home in a half-Italian suburb
Work in the construction industry as a legitimate businessman
Make a very public stink when cops apperceive, no doubt falsely, a resemblance to Mafiosi, turning your family into very public figures
None of which has been proven in court, of course. On the basis of available evidence, the Del Toros are fine, upstanding members of the community, except where, by their own admission (Fabio's driving habits) and in published documentation (entitled and stereotypical appearance of Fabio in photograph), they aren't.