Last week before the city's Executive Committee, the Spacers stumbled over themselves making nervous "deputations" against the proposed street-furniture contract. I also appeared, but I wasn't bumbling or nervous. I recycled a soundbite here and there ("If my city can't afford to buy garbage cans, why am I paying taxes?"), but mostly I objected on limited substantive grounds. There were other deputants, none of whom was in favour (two were neutral). City councillors attempted to pass a number of amendments, most of them sensible (except the one on my limited substantive grounds), but those were referred back to staff, an ambiguous but not necessarily ominous turn of events. The recommendation to adopt the entire program was passed. I saw no hands raised during the split-second in which nay votes could be cast.
The Spacers lost.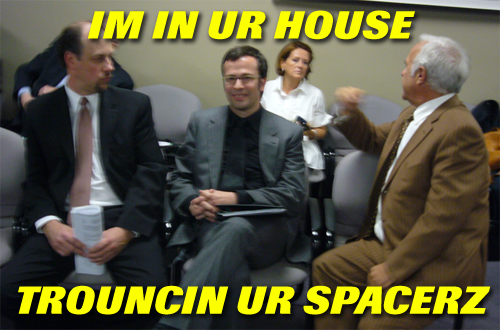 Yet they're the last people to admit it. Our excitable Canadian friend did publish a short post within an hour or two of the decision. Spacing Wire published nothing but links to newspaper articles, and waited a day to do it. The remaining husk of the Toronto Public Space Committee published nothing save for a few grafs in its monthly newsletter days later. Their street-furniture page still pretends it's a live issue. (TPSC described me there as an "all in the battle." I would not join a club that would have me as a member.)
What really happened?
The Spacers collectively opposed the street-furniture plan before it was even fully released. Then, though they're mostly students or self- or semi-employed and had all the time in the world, they were too bloody stupid to show up at the vendors' meeting that would allow them access to all bid documents and to submit questions. I had to do that.

I published all the substantive public documents from the bidding process. The Spacers would still be fighting the city's begrudging and recalcitrant information staff for those documents if I hadn't done so, and they'd be stuck with scanning 400 pages of printouts. (I handed the Spacers my hardcopies of the bid documents to save them time.)

On behalf of non-Spacers, I asked questions about the accessibility of the documents and of the ultimate street furniture. I filed an objection after the bid deadline. (Such would later be my limited substantive grounds.)

I downloaded the illustrations of the bidders' street furniture (published at their level of quality only at my behest). Then I extracted all the images of the furniture (what Spacer has those skills?) and published them on Flickr, with attribution and for the purposes of review and criticism. Then I shot the models on display at City Hall and published those photos. All those images garnered a healthy 4,777 views and were the only realistic way for an online readership to study the individual pieces.

At a pan-Spacer press conference, Matt Blackett told reporters he simply wanted the entire RFP sent back to staff, ostensibly because their calculations of advertising surface area were fractionally inaccurate. Note well that the head Spacer did not call for cancellation.

I attended the Executive Committee meeting, made the worst presentation of an 18-year history of acclaimed public speaking, and got my worst shock since my mother died. And that isn't a euphemistic way to say "I lost," because I didn't. They did.

It was Wednesday before I remotely resembled my normal self and was functional again, but there was not a fucking word from the Spacers.
Through this entire process in which I was declared an ally (Cf. "enemy combatant"), I saved the Spacers' skins over and over again and never got so much as a thank-you. Well, at City Hall I did get a guyish "Thanks for comin' out" from Meslin, but that hardly counts.
I often complain about being unappreciated. Because I am.
Meanwhile, the Spacers lost their biggest-ever campaign. It goes to show that Spacers are perfectly able to plant twee little blossoms in patches of untended land; hold competitions for doomed mayoral candidates; start up a magazine; sell subway buttons under the TTC's nose (then design buttons for the TTC as a precursor to an all-out merchandising contract); run two blogs and a half-arsed Web site; and act as His Majesty's Loyal Opposition to the Spacer dream boss, Mayor-for-Life David Miller. They showed a generation of Toronto residents that civic infrastructure is not only interesting but cool.
But one thing we know Spacers are unable to do is fight city hall. What they've got is a hobby, not a calling. I'm sorry I ever did anything that helped them.