Two years after the Spacers™, Rami Tabello, the Toronto Public Space Committee, and I documented the issue, the Globe and Mail's architecture critic decides that garbage cans designed at the best of an advertising company are finally worth covering.
The "Step aside, kiddo" law of citizen journalism: No matter how early you cover a story online, it's only a matter of time before the mainstream media swoops in and acts like they broke the story in the first place. (Sometimes they'll just plagiarize you, yet you'll be the one who apologizes.)
Take it away, Lisa Rochon.
Overcrowded with overscaled cars, our streets have become death traps for cyclists. Our sidewalks are paved-over cowpaths, designed as if to punish those who have exited the cocoon of their automobiles.
Rochon feels authorized to make these statements as the driver of a Smart Fortwo. Toronto sidewalks are apparently quite wide enough to park a Smart on, since I have observed Rochon do exactly that. I didn't take a picture – I called it in; she walked back and drove off before a green onion could ticket her – but I did snap this photo of Rochon's parking nose-to-curb: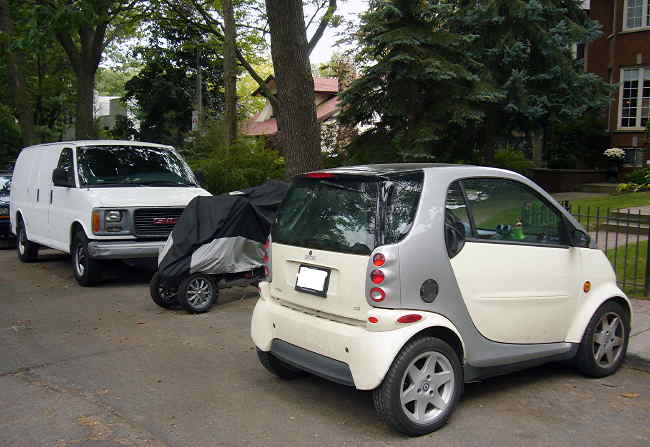 Hardly an atrocity, but Rochon seems to believe she bought a set of customized parking regulations the day she bought her Smart. Her microcar gives her licence to lecture. (She has a habit of reserving luxuries for herself. Rochon finagled access to the belletristic isolation of Maple Cottage so she could write her doorstopper on the cottages of her social class.)
As if our narrow sidewalks of concrete and patches of asphalt were not already difficult to negotiate, residents will now be asked to share their turf with 25,000 additional pieces of street furniture, including uncommonly ugly garbage cans – known, in the city-corporate parlance of the day as litter and recycling receptacles.

I prefer to call them dweebs.
Of course she does – because Rochon has to come up with her own neologism even though the settled and established slang for the Astral garbage cans is "droids." ("These are the droids you're looking for.") Now, really: Which of those terms actually works better, and which one was obviously formed in reaction to the other one?
In any event, where was Lisa Rochon a month ago when these droid garbage cans were installed along her stretch of Queen St.? I was there. I guess it took her that long to rewrite existing coverage and call it her own. (Incidentally, did Rochon base her observation that "heir inner guts, made of cast aluminum and steel, are high-tech and tough" on my own pictures?)
This phenomenon may ring a bell for locals. The Fruitopia book series was such a smashing success for Smart-sized publisher Coach House that the elite media eventually decided to colonize the concept and do it right. (Step aside, kiddo.) The result was a hardcover book with a title nobody can correctly quote from memory, filled with crashingly boring essays by important Toronto intellectuals. It tanked.