Torontoist, a non-viable operation, takes time out from its remit of transgender apologia and lying about gay history to publish the worst typography article of the year, not at all coïncidentally written by a young Millennial hack who knows nothing. (And is additionally a vizmin female, hence immune from criticism.)
Isabelle Docto's "How Typography Makes Toronto More Accessible" is incorrect in its premise and in seemingly every detail. The piece tardily documents an inconsequential pilot project to erect "wayfinding" stelæ in the Financial District. Any experienced person knows this is an effort by inferiority-complex-beset city bureaucrats to bring Bristol Legible City to Toronto. (Docto is not an experienced person.)
Every town that wants to improve its "wayfinding" wants Bristol Legible City replicated in that town. That's what happened here, and that isn't conjecture: A lead designer on the Bristol project and its descendants (really the) confirmed that to my face.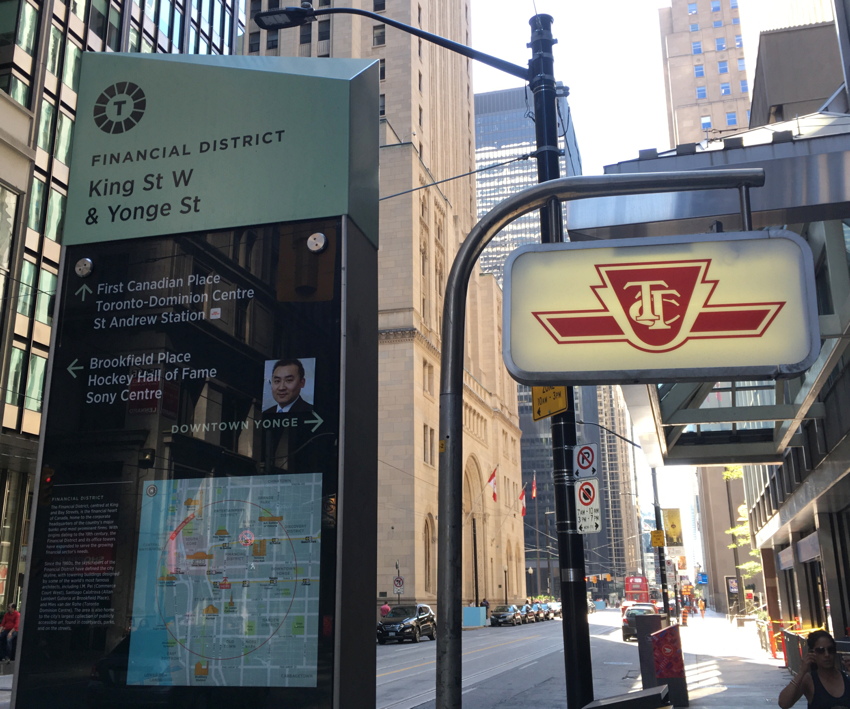 These stelæ were the result of a lengthy project with endless "consultation" meetings, not a single one of which I was able to attend over a very long period. Nobody would have wanted me there anyway because, first of all, this was a gathering of people, and, second of all, I would have correctly stated that this is an exercise in replicating Bristol Legible City and all parts of it were foregone conclusions.
Nonetheless, if we accept Docto's premise of accessibility, we would need empirical research proving the stelæ actually work for people with disabilities. But we'd also need that for nondisabled people. City bureaucrat Chris Ronson confirmed no tests were done with visually-impaired people. He claimed actual tests were actually done with nondisabled people but, when challenged, refused to provide them. (I'll be getting them anyway.)
Docto's untutored nonsense in detail:
She quotes a colourblind person (as one would expect, a male):

"What really threw me off was that those types of signs compared to street name signs have a different colour tone to it," Guan explains. Some signs would be black and others would be blue.

Deutans can see black and blue just fine. Light text on those backgrounds will look the same as it does to colour-normal persons.

Docto goes on about "street name signs" and their typography, never quite figuring out that this had been covered before (back when Docto was in high school, I infer). I'm the one who covered it. The real issue there is, again, the lack of testing and electronic condensation of lengthier street names. Docto quotes some random "designer" on the issue anyway.

Juan Pablo Rioseco, an associate with Steer Davies Gleaves and the Wayfinding Strategy's principal designer , says they needed to tick a few boxes when it came to making the city more accessible with typography. The first was choosing a legible typeface to use on signs. This meant using a font that was sans serif, geometric, rounded yet sharp, and came in a family of different weights and sizes.

Isabelle Docto really thinks you have to buy different specific sizes of type. She further fails to understand that "geometric" has a specific meaning. And how many blurry typefaces are there?

"The font that ticked all of these boxes is Gotham," Docto tells us, nonsensically. Gotham was chosen because it is trendy and popular. Rioseco confirmed there was never any performance testing. (He also didn't like my tone, attitude, and approach, and he didn't want to be quoted. Yet he's gainfully employed at a near-monopoly city design consultancy and was working on a public project and was quoted in the press.) The stelæ use typefaces other than Gotham, a fact Docto could not have spotted even if you paid her.

And as for accessibility, as ever the issue is the fact that visually-impaired people generally will not know your sign exists. They'll walk right by it. That holds true for interior wall signage, too. The effects there are somewhat mitigated by mandated heights for raised lettering and Braille, but all accessible signage that starts out as visual signage is inaccessible by default. Blind people, even the minority who can read Braille, are not going to feel around your wall for a sign, nor are they going to stop at King and Yonge and look for a sign they otherwise don't know exists.

What is the full extent of the so-called accessibility of Toronto Legible City? One line of raised lettering and Braille 2½ feet off the ground.

Blind people are the full extent of what "accessibility" means in city signage. Such signage, even if claimed to be accessible, fails completely on that count and for that cohort.
If you noticed that all of these topics are a jumble and a hash, neither Docto nor Torontoist "editors" did.
What did Docto have to say?
I complained to Docto. She top-posted the following: "Thanks for your input and taking the time to read the article. I'll keep all of this in mind if I write about typography again."
I replied "Please don't."