And speaking of relay services: If you hack Sprint's astonishingly-noncompliant site, you can eventually watch ASL videos explaining the IP-relay process. It's a rare case of subtitled online video: There's no speech, only sign.
Now, what happens if you're a woman and want a female relay operator? Let the nebbishy pipsqueak male actor fill you in!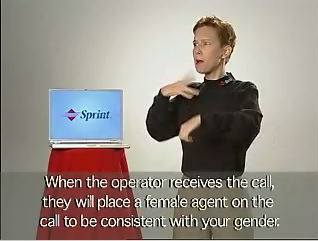 And as a public service, here's the full list of QuickTime videos, including one they don't want you to see.