A while ago, I was walking to the Balzac's (yes) and saw a sign tacked to a window on a storefront on the backside of the main building: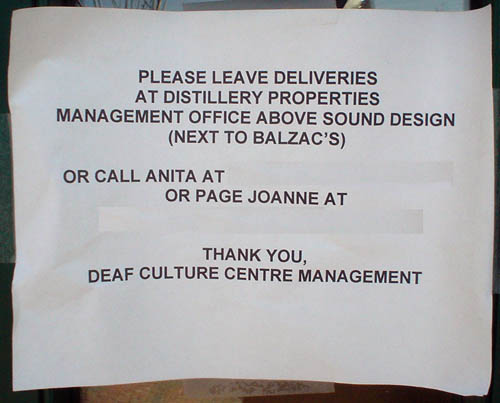 (Some details redacted. Apparently someone who is really good with Photoshop could uncover them; this isn't exactly strong encryption.)
I thought: Deaf Culture Centre? Apparently so, yes, and it's costing 1.3 mill. I walked by that location again today and peered in the window; all I saw was couple of hearing workmen doing not much, the backside of a bar, and a very nice floor-to-ceiling glass sign with the Canadian Cultural Society of the Deaf logo sandblasted in.
Anyway, this is de facto Deaf Week here in the province of Toronto.
The Toronto International Deaf Film & Arts Festival – which, if you were to go by its Web site, is merely TIDFAF; there is no expansion of the acronym in plain text – runs from today to the 14th and opens with It's All Gone Pete Tong.

Nothing about the event talks about captioning, open or otherwise, or interpreters. If they're just going to play a DVD and run the Line 21 captions, they're going to be very surprised at all the dropouts our incompetent friends at CNST included. And if they use the subpictures, well, they aren't captions.
There's some kind of invited speaker from Gallaudet, but they don't tell us when or where she's speaking.
We're advised that many events happen at the Deaf Culture Centre, which as yet doesn't exist.

Mayfest is this Friday. I've never been. Apparently I could show up and talk to the always-pleasant Jim Roots at the Canadian Association of the Deaf booth. Worth the trouble, especially since he'll probably try to bill me for the interpreter? It remains an absurdity that MuchMusic runs a video dance party 16 years after I was one of the three people who made captioned music videos happen.
Can somebody explain to me why the Society can raise over a million dollars, but no deaf group in Canada can put together an even-barely-adequate Web site?