We're now halfway through six weekends of planned, systematic subway diversion. And how's that going?
It's still a disaster in terms of wayfinding. The original prepared signs are still there and still don't tell you what you want to know in under 500 words and four linear feet of sign. And the crappy ink-jet-printed homemade signs are still there, and as they get beaten to shit by people, they're printing new ones and putting them up. In fact, they're putting them on top of the other signs.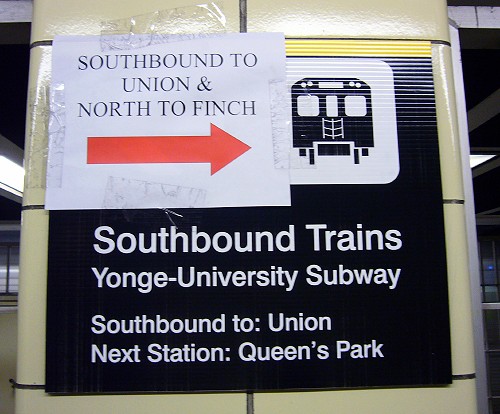 (And this is the one – of two – that isn't torn at the edges.)
I have now talked to many supervisors on site about the signs and the Deaf Problem. One of them said my concerns were noted (he actually said that, as though he were writing an organizational memo) and I was free to contact Customer Service – "where I'll be ignored until Week Seven, at which point this whole thing will be over," I interrupted.
Last Sunday, I asked around for the most senior supervisor. I eventually saw him in the distance and, as I walked up to him, I thought I'd hit the jackpot: He was wearing a hearing aid (and a really excellent cap). And in fact he agreed that deaf people would have to be super-vigilant to read the destination sign on the front of the train. I told him of my low-tech solution to the problem, which he claimed he would E-mail around the next day. I gave him the blue card so he could Cc: me. Perhaps curiously, he didn't. You'd be amazed to learn what he told me about signage, but the walls have ears.
Now, we're giving these people a billion dollars to extend a subway line?