Or: HOW TO BE AT THE RIGHT PLACE AT THE RIGH TIME.
There I was, minding my own business riding in the Beaches, when I saw somebody walking with a guide dog. There is at least one oft-seen Beach resident who is blind, but I don't think he has a dog. I took a closer look when I actually got closer and, lo and behold, it's three people with three guide dogs.
"Don't see three guide dogs very often!" I cheerfully said, and made my usual mistake of keeping right on going past something unusual rather than stopping cold. I came to my senses and noticed, post-facto, that they all wore the same red jackets and did not for a second seem really blind, except maybe the Chinese guy. (The white canes are props and are a dead giveaway.)
I actually did stop, after blowing what would have been a really good shot, and did the standard photojournalist thing of refusing to give up before I got my damned photo. A Uey and a quick positioning in their path got me what I wanted.
"And only you are visually-impaired, right?" I said, pointing to that guy. "No, we all have vision," replied the actually quite disturbingly hot bald blue-eyed Italian with the wedding ring.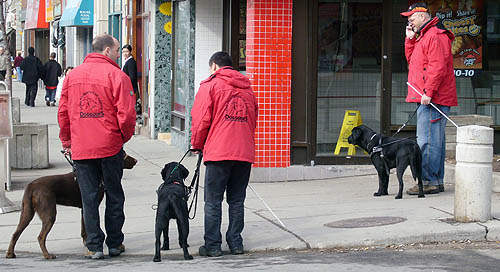 They're from the Lions Foundation of Canada Dog Guides, which has shockingly inaccessible site.