By Paul. J. Lawrence, Toronto Star, 2007.04.24 (p. B3):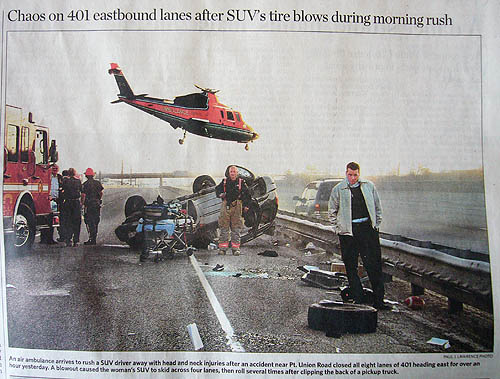 An air ambulance arrives to rush an SUV driver away with head and neck injuries after an accident near Pt. Union Road closed all eight lanes of 401 heading east for over an hour yesterday. A blowout caused the woman's SUV to skid across four lanes, then roll several times after clipping the back of a pickup truck.
This is really a case of being in the right place at the right time – just as the chopper takes off and a fireman and some kind of plainclothes-cop type in a Kevlar look quizzically at the camera.
The air ambulance is often seen at my latitude of the city and I do the same sort of thing I do when I see roadkill: I say a little benediction (not exactly prayer). You know I went through engineer school to work in automotive safety, right? It requires bloodlessness on the one hand and barely-controlled wincing and cringing on the other, often in response to actual blood. If I ride alongside your car in midwinter and holler "Seatbelt!" through your closed window, do as I say.