As it is summertime and the living is ostensibly easy, I thought it would be a nice diversion from this TTC malarkey to go on a TTC photo shoot. Contradictory? Quite. It would be nice if I had any idea at all how to relax.
On Monday, after my subway signage tour with Ed Keenan, I went absolutely crazy and used the hideous vending machine at Yonge & Bloor to buy a TTC weekly pass (expensive at $30). Suddenly I've got a fuzzbox and I'm gonna use it. I planned to enter and exit every station on the Sheppard line, but only after stopping off dans le Rosedale for a coffee and after visiting the North York Central Library to raid further back issues of Eye.
After a good double espresso served long without Leslieville-style argument, I found myself on the subway with a TTC supervisor nearby (identity withheld).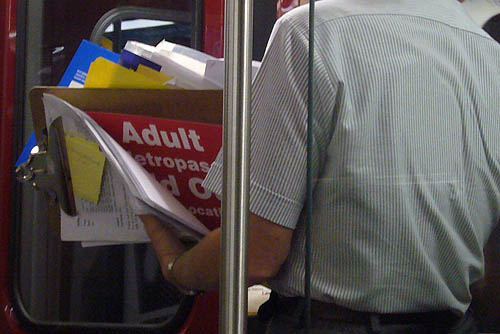 I had already been having a highly deterministic week, so I figured I really was seeing what I was seeing. Excuse me, I eventually asked them, are those a pile of signs for collector booths? And you are…? you are with…? was the neutrally delivered response. I'm Joe Clark, I said. I'm the one who's been making the fuss about the signs. The supervisor knew me by name immediately.
We had an excellent chat about handwritten signs, the new priority for one reason or another. I explained that handwritten signs indicate a local need and a failing of the system (and that there isn't a system). They weren't willing to bite on all of those points, at least not quite yet. We talked about the London Underground, and parted company at North York Centre. Providential, nu? Well, you ain't seen nothing yet.
Popping back down from the library, I eventually realized I hadn't brought my notebook – even though I was scheduled to be at Pape at 1500 hours for the press conference. I thus had to scribble notes here and there and simply remember things.
First, look at the pictures. With the pleasant partial cloud cover, I snagged some pre-apocalyptic photos of exterior pylon signs. For example: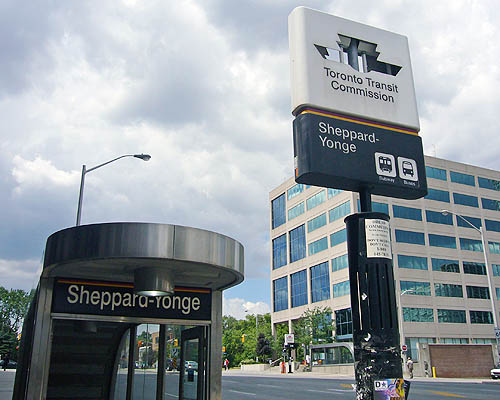 Not only is the pylon sign beaten to shit and missing its TTC logos (excised like dough for a cookie), the type reading Sheppard-Yonge is electronically scrunched fake Helvetica. (I bet you couldn't tell. They couldn't either, obviously!)
Observations:
This is my fifth time way the hell out at Sheppard and I have to be honest: I really love the five Sheppard stations. I just think they're fantastic. They're seven years old but they look seven hours old. I think there could have been some improvements to the application of concrete (which, again, I support, because it's honest), as through the use pigmented concrete. You can see some of that on the floor at ground level at Bayview, and it's as attractive there as it has been in every other installation I've seen. (It isn't stucco on concrete; the "cement" really has a colour.)
None of the automated entrances with power doors actually work. The exterior doors do, but when you try to enter the station in your wheelchair, you can't. Nor can you exit. I reported this twice, and was told the second time that when you hit the door button, a collector must look at you via camera, decide you need the automatic door, and open it for you. So much for independence. Also, I don't want other people deciding when and if I need accessibility.
There are condo developments abutting Leslie and Bessarion stations. Or so they claim; at present they are mere vacant lots surrounded by Brazil-style billboards.
I saw exactly one handwritten sign, at the automated entrance at Sheppard-Yonge. (It was, oddly, staffed by a middle-aged woman intently scrawling something that resembled a Dr. Bronner label [

DILUTE! DILUTE! DILUTE!

].)
En route home, I noticed that the handwritten sign at Greenwood (whose entire life history I have notes for) had been taken down. At Pape for the press conference, I found myself unsurprised to see the same TTC supervisor standing there. I had last seen the supervisor miles away in what was formerly another city, but really, it was all making sense in a cosmic way. We had another chat. They had swung by Greenwood last night and taken down that sign themself.
During neither conversation did it really seem appropriate to give them my card; it occurred to me several times with a very strong Wintuition™ and it probably meant something.
And now the punchline.
Is the most boring job in the TTC that of the fare collector at Bessarion station?
Such is the lore. So I asked that collector, after I got his attention and he put down his magazine.
No, it's the best position, he said in a noticeable Filipino accent ("possishion"). Why? I get one passenger every half-hour. I can read. I have my microwave oven, he said, gesturing to it.
Ah, I said.