Pleasingly enough, yesterday's second TTC Type & Tile Tour went as well as the first one. We had a 50% dropoff in attendance (then again, so did Nonfiction), but that was no problem, since it left us with 26 people. We started at the ugliest station in the system – Lawrence West, straddling the Allen Expressway – and proceeded to the nicest, Dupont. Ultimately we schlepped all the way to the Sheppard line (the first visit there for many) and toured pretty much every square centimetre of Bayview.
It was amusing standing inside at ground level – possibly the farthest north many people had ever been in Toronto – and blanking on the term for the kind of brick used in this decorative wall.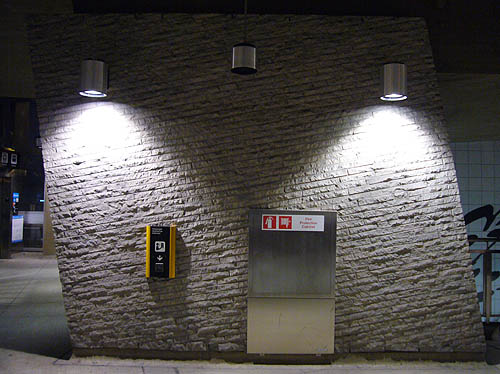 So I did what they do on the game shows and called my "lifeline." ", what do you call a stone with a rough surface? Not 'reticulated' but—" "Rusticated." "Rusticated! Thank you, ."
A short time later, while photographing the isometric trompe-l'œil artworks at the other exit, K-Hug hurried over and told me the collectrix in the booth was pounding her hands on the window and (impotently) hollering "No pictures!" Noncommercial photography is allowed without a permit. And if she were that unhappy, maybe she should have left the booth.
We calmly walked downstairs, took the next train, finished our tour at Eglinton, and took over the back half of a Suction Cup for coffee.
Nice.
Somebody suggested I do a tour just for TTC staff, an idea that's got legs.
Some lore from various guests on the Tours:
There's an oddball sign on the eastbound platform at Vic Park because there used to be a fare booth at the respective end of the westbound platform.
They're fixing the platform edge at Rosedale.
The jail cell at Museum station – so unloved by the former chair of the TTC – was put there years ago to prevent people from using that space. Why? Wymmynz from UofT had complained of fear of assaults, and that area was out of camera range. Gee, why not install a new camera? Or only wait where there is one?
You can follow the coverage:
There will be a write-in campaign that I need you to help me with. If you went on the tour, contact me.