I have a whole collection of elevator photos. They are worthy of several posts. (Did you know Floor 3 is two storeys underground?) Today I just want to tell you how to get into or out of Dundas if you're crippled.
On a lark, I decided to follow a strictly-barrier-free path from inside the Eaton Centre to the subway train. There are automatic doors in all the right places, but there is no way to find the actual elevator unless you already know where it is. (It's part of the parking garage. From train level, if you're on the northbound side, you can get a feel for where it is. But it's unmarked.) I do already know where it is, so I schlepped all the way over there. It involved using various Green P automatic doors and, at one point, jumping a curb.
Then I got to my destination.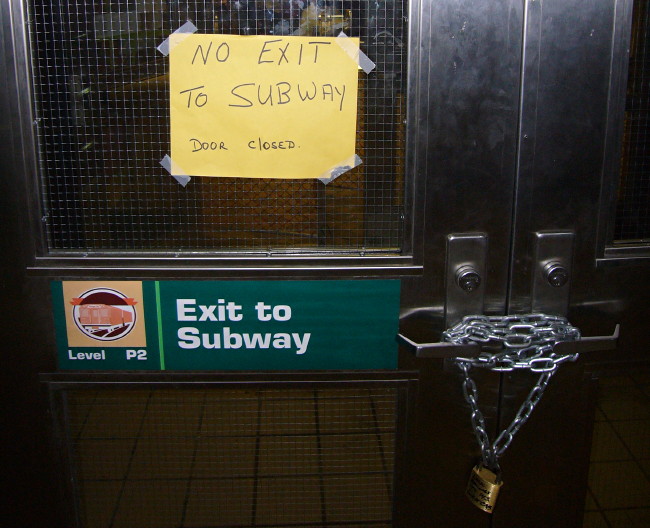 As ever, which sign do you believe? The typeset one or the handwritten one? No contest: Like a mafioso's goon, TTC backs up its scrawled signage with chains and a padlock.
What's the kicker? While I was doing all this, I was listening to Ouch, the montly BBC disability talk show. Super-poignant all around, TTC.