I will now make a fourth attempt to address this topic properly.
Like you, I am bothered by untimely deaths, worse so if the deceased could be considered part of my group. I am not a graphic designer, but I was disturbed when Darrin Perry died because, as a gay graphic designer, he was as rare as an albino leopard. We can't afford to have these guys dying off, especially when the cause of death is suicide.
My acquaintance (and everyone's friend) Brad L. Graham died, by, I suspect, too many of the wrong kind of pills. I am saying it was a half-assed kind of suicide. I could be very wrong, because sometimes people just die in their sleep, like that gay medical researcher, David DiCiommo.
It is trite to say that the death of David Foster Wallace hit his followers like Kurt Cobain's death did his. I am still completely fucked up over the death of Tim Hetherington. At least what he was doing was real. Then again, that's the sort of thing my opponents would and do say about me.
Magnificent ginger silver-medallist boxer Mark Leduc, indeed the closest thing to an albino leopard to manfully stride the earth, died under suspicious circumstances his boyfriend won't talk about.
Another important man who died in his sleep was Leo Obstbaum. I have been unable thus far to cover this event adequately, even at the level of strict factual accuracy. I started out calling him gay, which he wasn't; he had a wife and kids. I mused that "died suddenly" meant "committed suicide"; that is what it means in newspaper reporting, but the term was simply used incorrectly. He merely died unexpectedly, a phrase with no ulterior reading.
Leo Obstbaum – with a name like that, he could only be Argentine – was important because he came out of nowhere and put together the most cohesive and flatly most impressive design exercise this country has seen since Expo 67 – that of the 2010 Vancouver Olympics and Paralympics.
Obstbaum had exactly the right idea: He knew that every · single · thing had to be designed. No reliance on defaults for anything, from the Games' typeface to every object remotely related to medals (each a one-off ingot with almost-unique imprinting; then there were the medal-bearers' uniforms, the presentation podiums [even for wheelchairs], the lanyards around athletes' necks). All objects, surfaces, pages, impressions, experiences were custom-designed for that and only that context.
Canadian mediocrity rots straight to the core. We need foreign-born designers to do our best work. Once every two generations, we get our shit together enough to actually hire such a designer and let him loose. We hired Paul Arthur in '67 and Leo Obstbaum in '010. We got it right twice. Don't count on a recurrence, because both of them are dead, and the kind of immigrants Canada now solicits are Chinese grandparents, Indian engineers and doctors we won't let practise, and unassimilable Muslims.
I sat on my library copy of John Furlong's Patriot Hearts for nine full weeks. There was an ostensible reason, and then this morning there was what presented itself as the real reason. Here is what the Vancouver Olympics CEO wrote about Obstbaum:
Before Leo arrived on the scene at VANOC, there had been months of loud banter inside the organization about the "look" that we wanted to create…. In a perfect world, we would have had our own design team working inside the walls of VANOC to have greater control over what was produced…. Ali Gardiner was heading up our young, fairly inexperienced brand and creative team.

Well aware of our vulnerabilities, she was hunting for senior talent to help get us to the next level. That is where she came across Leo.

Leo was from Buenos Aires and had done some creative work on the Summer Games in Barcelona in 1992. He had quite a bit of experience in designing mascots specifically. Ali was convinced this was the guy we needed to inspire and build our design team, but English wasn't his first language. […]

He was just looking for a chance. We gave it to him, and he turned out to be a stunner who managed to steal the hearts of just about everyone whose path he crossed. He really was a complete genius who saw beauty in the most nondescript things. Everything he touched seemed to win rave reviews. The IOC had to sign off on every design we came up with, whether it was the mascots or the medals. And every time Leo put something in front of them, the box was ticked minutes later. […]

In meetings, if he was showing us something and it wasn't working or he wasn't getting the feedback he was looking for, he'd stop and say, "OK, we're not ready. This is not good enough. I'll come back." And he would, with something better. But when he felt he was dead right he would pull out all the stops to get you to his point of view.

Then one August morning, Ali asked to see me and Dave Cobb. She started to talk but couldn't get the words out before breaking down. Leo had passed away the night before in his sleep. It was his heart. The irony was lost on few of us. The guy had one of the biggest ones around. […]

He was buried on a lovely warm Vancouver day, and as we stood around his grave taking turns tipping soil on top of his coffin, a rapid-transit train with one of Leo's Olympic designs on the side whizzed by.
Obstbaum was memorialized in the giant commemorative tome about the 2010 Winter Olympics.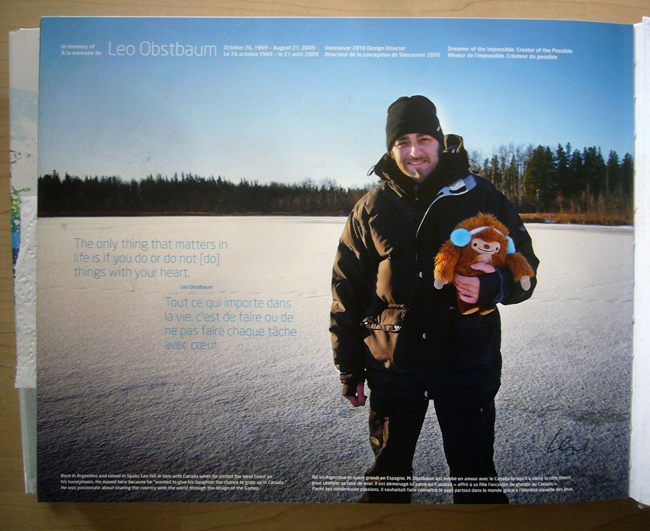 Not at all ironically, the photo credits are so unreadable I don't know to whom to attribute this photograph.
---
Document history
Published, with errors: 2009.11.19
Corrected: 2010.03.09
Updated: 2011.05.10, 2011.05.24