(CORRECTED) Pontiac front ends done wrong and done right.
The Sunfire, with the worst automotive front end since the Edsel.

Original (circa 2001):

Strangely inset headlamps (as though 1970s-era sealed beams), even though they're a custom model here as in other cars; too-deeply-inset lights in general

Panel gaps

Less overhang, but still too much

Under-bumper air intakes are unconvincing; outboard edges are actually de facto air dams for the running lights

Revision (circa 2002–2005):

Gaps, gaps, and more gaps

Too many planes (grille and turn signals around central pillar actually lean in under the hood)

Jagged front edge of hood

Unbalanced headlamp shape

Too long; too much overhang

Licence plate blocks apparently intentional air opening below bumper even though surely somebody knew that's where the plate would actually go

Grille isn't honeycomb

More is less.

Holden Commodore (Pontiac G8), which does it right:

Custom headlamps (circles!) inside flush fascia

Inset honeycomb grille matches inset air intakes on hood; chrome trim on edges maintains general wraparound plane

Uncomplicated detailing below bumper

General lack of detail

Less is more.

(Strangely, a near-identical G8 was four cars behind this one when I took this picture. You rarely see one of these things, let alone two.)
(UPDATE · 2013.08.22) Then there's the Grand Am: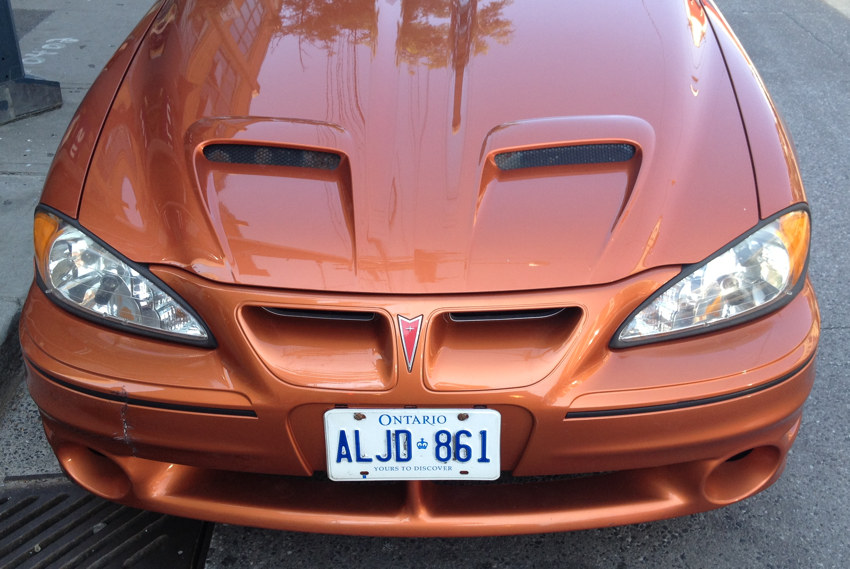 Also!