I've watched a lot of panels and I've appeared on almost as many. What was surely the most sprightly and delightful panel I have yet seen took place last Saturday when a Japanese-American compèred a panel about the cuddliest Japanese smut artist.
I actually had to explain the British expression compère to the very quick and urbane Anne Ishii, our hostess. The star of the show was Gengoroh Tagame (田亀源五郎), writer and illustrator of bizarre sadomasochistic gay erotic comix (really comiXXX) that I had never looked at until last week and was pretty shocked by.
The panel took place under the ægis of the Toronto Comic Arts Festival, a nerd magnet where I have never failed to find something new and where I have always enjoyed myself. TCAF takes over the Toronto Reference Library, which is more than a little ironic considering that the all-female book-selection staff at the Toronto Public Library have deemed The Passion of Gengoroh Tagame and Massive: Gay Erotic Manga and the Men Who Make It as outside the scope of the library, an excuse to turn down my blue-form suggestions they invented just for me. On one of the many other occasions these ladies applied that reasoning against me, the library banned an entire author – not coïncidentally a gay man – for "misogyny."
While all the foregoing is true, TPL has nonetheless allegedly ordered one copy each of those two books, which will then be carefully situated at the Reference Library away from prying eyes. Meanwhile, there are 29 translated individual works of the Fifty Shades of Grey smut-for-secretaries œuvre in TPL's collection, plus 101 copies of the movie alone. And a few dozen dirty books for lesbos, including Women with Handcuffs: Lesbian Cop Erotica.
Putting these and many other facts together, I believe the library, which just hates it when I use the terms "Spokesgay" and "Spokesgaysian" on my own time and off their property, is illegally discriminating against gay males. And, for making the foregoing statement (just the beginning of a process), I expect the library's peon to again threaten to cancel my library card or actually bring me up on charges. All I can say is "One complaint to the Human Rights Tribunal can ruin your whole day."
My Brother's Husband
I kept thinking about all the above because the panel, and Ishii's interview with Tagame at the so-called Queer Mixer later that night, were so terribly charming. I could even pick a few things out of the Japanese, which Tagame definitely speaks with a gay accent. I always had these busybody librarian ladies' nastiness in the back of my mind.
Yet more charming Tagame's new foray into mainstream graphic serials, My Brother's Husband. (The title boils down to just three characters in Japanese [弟の夫] at the cost of losing the possessive.) No, the giant gaijin isn't a ginger; I asked.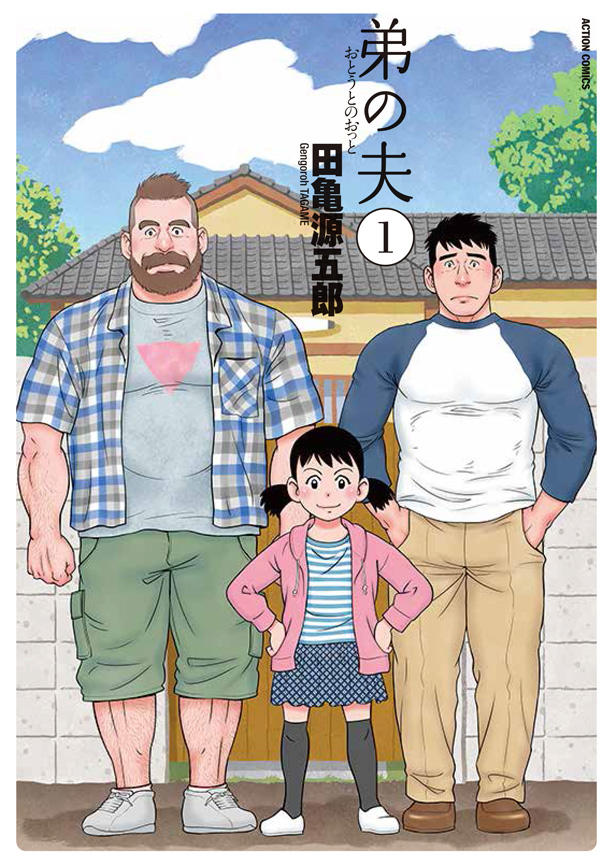 It seems like a bemused-fish-out-of-water tale, of the sort I seem to remember but cannot put my finger on, of gays having to come back home and suddenly take care of distantly-related children. One looks forward to an English translation.
(Further coverage ☛)