Queer Progress: From Homophobia to Homonationalism is a title with something to repel everyone save for the cadre of progressives, career liars, and extremists that are author Tim McCaskell's base and audience. The book is that subversive's second de facto autobiography, and if you take it at face value it constitutes a history of gay and lesbian activism in Toronto. So that's how I'm going to take it.
Here's McCaskell reading at Word on the Street this year. I am reasonably sure I was seated directly behind Richard Fung, whom I'll return to later.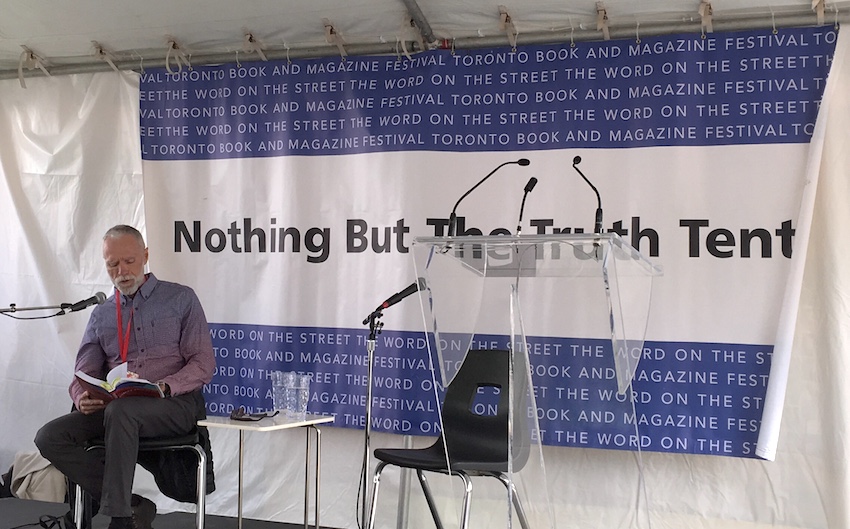 Essentially everyone who played any real role in the history recounted in Queer Progress is White, as is Tim McCaskell himself. "White gay men and lesbians built gay Toronto" is a statement of historical fact that, when stated as historical fact, gets your mike cut off at a "community" event. But McCaskell proved it.
I went through this confusingly typeset volume with a fine-toothed comb (i.e., I read it) and took note of every name mentioned up to page 109. That's where McCaskell describes his attendance at National March on Washington and where he starts talking about "Third World" issues, explicitly disclaiming that term. Essentially everyone named is White up to that point in the book.
Many names mentioned were of historical figures or writers of seminal works, almost all of them Marxist. (Right-wing assholes are prone to throwing around the admittedly vague term "cultural Marxism." This is real Marxism.) Some names were of cops or government ministers. But the true value proposition of the first hundred-odd pages of McCaskell's book is its accurate chronological cataloguing of every White gay man and lesbian who built gay Toronto, most of whom had something to do with the Body Politic ("TBP").
Activists
Starting at about p. 36. Names in quotations generally elided. Listed in order of appearance. Some figures are more marginal than others, and indeed these may be their only mentions in any book ever. Many Jews are described as such, and for my purposes here I am not classifying them as nonwhite, though I am aware of arguments to the contrary.
Jearld Moldenhauer

Robert Trow

Gerald Hannon

Ed Jackson

Merv Walker

Tom Warner

Ken Popert and, inevitably, Brian Mossop

Walter Bruno ("people joked behind his back that he was trying to pass himself off as a Latin lover because he had changed his name from Blumenthal")

Herb Spiers

Michael Lynch

Ian Young

"TBP member Brian Waite"

Peter Zorzi

Bob Wallace

George Hislop

Rev. Robert Wolfe (Metropolitan Community Church)

"Peter Maloney, manager of the Club Baths and owner of the Barracks"

David Foreman

Sally Gearhart

John Lauritsen

Michael Riordon

Sander Gilman

John Damien

Chris Bearchell

Doug Wilson

Harold Desmarais

Bev Brown (" feisty dyke")

John Wanweering

David Gibson

Jim Steakley

Peter Maloney

"Marie Robertson of Lesbians of Ottawa Now (LOON)"

Becki Ross

Naomi Brooks

Gillian Chase

Terry Faubert

Marie Robertson

Robin Metcalfe

Walter Davis

Barbara Thornborrow

Gloria Cameron

Paul Trollope

Rick Bébout

Darleen Lawson

Linda Jain

Brent Hawkes

Francie Wyland

Natalie LaRoche

Mariana Valverde (who "came from a left-wing Spanish family")

Susan Cole

David Garmaise

John Argue

Hugh English

Janko Naglic

Philinda Masters

David Mole

David Roche

Jeremy Podeswa

George Smith

Lorna Weir

Dorothy Smith

Fiona Nelson

Clive Robertson

Lisa Steel

Marion Lewis

David McClean
Other notables
The book was blurbed by Steven Maynard, Vivian Namaste, Mariana Valverde, Amar Wahab, Gary Kinsman, Andil Gosine, Olivia Chow, and Eric Mykhalovskiy [p. 273: "Eric Mitchell (later Mykhalovskiy)"].

Karl Marx (and just "Lenin")

George Lakoff

Raymond Williams

Alfred Kinsey

John Maynard Keynes (not mentioned as the gay man he was)

John (discovered in McCaskell's grandfather's bed) and Louis, "skinny and pale with wavy blond hair"

Maj. Herbert Sutcliffe

John Diefenbaker, Pierre Trudeau, Robert Stanfield, David Lewis

Edgar Friedenberg

Roger Casement

Dennis Altman

Petula Clark (!)

Wallace Clement

Nellie McClung

Bob Wallace

Beland Honderich

Walter Davis

Kenneth Bagnell, a regular Globe and Mail columnist

John Roestad (convicted pedophile)

"Walter Davis of the Revolutionary Marxist Group"

Historical thinkers Wilhelm Reich, Herbert Marcuse

"Don Milligan's Politics of Homosexuality"

"Eli Zaretsky, who was just about to publish Capitalism, the Family and Personal Life"

Oscar Wilde

"Fritz Perls's gestalt psychology"

"a rather anti-charismatic 'psychiatrist,' Ernie Barr, who constantly spit into a handkerchief when he talked"

Guy Toupin (Montreal cop)

David Goodstein (who bought the Advocate)

Anita Bryant

Jonathan Ned Katz

Clayton Ruby

"famous youth worker C.J. Atkinson"

Claire Hoy

Harvey Milk

Amy Gottlieb

Darleen Lawson

Mel Lastman

Tom Robinson

Staff Sergeant Gary Donovan

Ken Campbell

Judge Sydney Harris

June Callwood (also Jane Rule)

Staff Sergeant Tom Moclair

Dan Heap

Allan Sparrow

Martin Duberman

Pierre Berton

C.B. Macpherson

Gregory Baum

"Liberal opposition leader Stuart Smith"

"Labour Minister Robert Elgie"

William Friedkin

Scott Tucker

Vito Russo

"and finally my sister, Lisa"
McCaskell's noted "Asian" lovers
Tim McCaskell, for decades an anti-racism advocate and indeed an anti-racism educator in schools till, as he describes in the book, the climate made that impossible and he quit, talks about a few of his loves, requited and otherwise.
Richard Fung
Man, did McCaskell ever score big with longtime companion Richard Fung. In a rock/paper/scissors scenario (if that game were played in the Oppression Olympics), both men have always been able to trump all comers because Fung isn't just Chinese. He isn't even Jamaican Chinese, which you could almost half expect. No, he's Trinidadian Chinese. Top that, cupcake.
Dedication: "For Richard, my intrepid companion through this journey"

p. 55: "I noticed a young Asian man across the room. He introduced himself as Richard Fung…. Forty years later we are still partners." (Note well: "a young Asian man")

p. 109: "Growing up in the Caribbean, he had always thought of himself as Trinidadian. In Canada people expected him to be Chinese, at least until he opened his mouth," at which point not purses but diversity points tumble out

p. 111: "Racial stereotyping in the gay-male sexual marketplace – both rejection for not embodying hite models of masculinity, and rice-queen fetishization – would be an enduring preoccupation of gay Asian organizing over the next decades," and those organizers were hot
Other "Asians"
p. 242: "to visit our old friend, Lim Pei Hsien in Vancouver. Lim had lived with us in the commune on Ontario St., and we had briefly been fuckbuddies when Richard was away in South America"

p. 249, 251: "I was visiting my friend Akio in Casey House…. His partner introduced me to an Indigenous man there who was recovering from a serious bout of PCP." (Note well: "an Indigenous man.") "Though he was not out to his family back in Japan" (continues)
Other dreamboats
McCaskell describes watching Shenandoah at an impressionable age.

At the threshold stood the young former slave in a Union uniform. In his arms he carried his wounded young former master/friend. He had saved him.

In the dark of the theatre, I realized I was crying…. I felt so lonely. I wanted a friendship like that. A friend that I could have adventures with, who would save my life and whose life I could save. A friend I could hold in my arms. A friendship that would withstand anything, even war.

I was 18. I joined the university's Young Socialist Club…. When Stephen didn't have his shirt on, his muscles moved like oil under his velvet skin.
Getting back to White people (now in AIDS activism)
McCaskell describes AIDS Action Now at great length. This pretty much sums up the demographics of Toronto gay and AIDS activism up to and including the era of that group (p. 254):

The organization was coming together, but it reflected the demographics of AIDS activism at the time. We were all gay men, except for one woman, Renee du Plessis, and all hite except for du Plessis and Sean Hosein…. A majority were veteran gay activists; the vast majority had a university education.

McCaskell does the usual complaining about class. But people of the educated class – that would be McCaskell's; he also worked in education – were actually necessary in some venues, he admits (p. 316).

By 1993, members could hold our own in conversations with doctors and scientists. But the committee also became less accessible to new people unless they already had a scientific background, privileging those with access to education.

That inexorable shift made us more effective.
Simon Nkoli was important; Ron Kelly wasn't
In the period in which I personally knew him and was too oblivious to understand the depths of his subversion, McCaskell put what appeared even at the time to be unreasonable effort into the case of one black South African with AIDS, Simon Nkoli. (Due to unavoidable adaptations to English phonology, the name is also often rendered Nkodi.)
I say again: I remember sitting in the house on Euclid for an AIDS Action Now meeting when McCakell excused himself, dug through a notebook, and called South Africa on the wall phone.
In the context of Queers Against Israeli Apartheid – coming up next! – McCaskell (p. 406) brings us back to 2009. (Note grandiose conclusion.)
I hadn't previously been much involved in Middle East issues, but I was happy to speak about our experience with . We had found ourselves doing both support work for Simon in lesbian and gay communities and anti-homophobia work in the broader anti-apartheid movement. These efforts ultimately helped enshrine lesbian and gay rights in South Africa's post-apartheid constitution.
McCaskell suppresses his and AIDS Action Now's malign neglect in the death of Ron Kelly. He elides Ron further, in true history-written-by-victors fashion, when describing McCaskell's appearance onstage at the 1989 Montreal AIDS conference. (p. 259: "After a few more speeches," he writes, not naming Ron's.)
AIDS Action Now veterans are knowingly refusing to address their complicity in Ron Kelly's death. Simon Nkoli's life was always more important than Ron's, self-evidently because Nkoli was black. "Apartheid" is a word McCaskell would come to use a lot. I wonder if it applies here.
Let's not forget QuAIA
QuAIA almost single-handedly destroyed the organized gay and lesbian community in Toronto. Tim McCaskell almost single-handedly guided that group of subversives. Having not yet encountered Black Lives Matter Toronto, we deluded ourselves that QuAIA was the worst threat gay Toronto had ever faced.
Returning to McCaskell's recollections of 2009:
I stressed that queers need to unconditionally express our solidarity with other groups fighting for human rights and social justice, and the struggle against Israeli apartheid was one of those causes.
This really is the party line in "queer" Toronto. (Cf. Ms Rinaldo Walcott, 2016: "And there's no Pride that can be legitimately represent queer people if questions of black lives, black oppression are not central to it, if the question of Palestinian liberation is not central to it, if the question for indigenous justice and decolonization is not central to it.")
A couple of dissenters had come to say that they didn't understand how gay people could support homophobic Palestinians rather than gay-friendly Israel. But the discussion was good, and the meeting a success.
Those pesky "dissenters" and their true statements about Muslims murdering gays. So easily overcome, it seems, after "discussion."
For the record, you as a gay man or lesbian "need" do nothing whatsoever that benefits any group or groups other than your own. You are not on the hook for feminism, anti-Blackness, Palestine, or any other issue that does not touch your own life, which you are free to lead as you wish.
HIV "criminalization"
QuAIA having done its job of sowing dissent, but only the right kind of dissent, in gay Toronto, McCaskell, a long-term positoid, has since turned his attention to the issue of HIV "criminalization."
This would be another of the ultra-left-wing topics it is pointless to discuss with advocates, because any and all dissent, if I may reuse that word, from the accepted program is viewed as opposition to the whole program. But I would again ask why opponents of HIV "criminalization" can never explain what the precise consequences should be for a known-HIV-positive man who fucks a man of negative or unknown HIV status without a condom. That's the only scenario that is of any interest to the majority of people who seroconvert, namely gay men.
But let's let McCaskell discuss his own history and practices (p. 398).
I almost never disclosed unless someone initiated some sort of risky sex. Then I would come out as poz and give them a lecture about protecting themselves…. I pointed out that if he was going to have sex in the baths, he needed to be prepared to come across poz guys and ensure that he had safe sex with everyone. He couldn't expect people to volunteer their status, and those most infectious were probably recently infected and didn't know it anyway. […]

I found the incident unsettling. In the bathhouse culture that I was familiar with, people were supposed to protect themselves, not rely on someone else's disclosure.
This philosophy, while seemingly an articulation of conventional wisdom, actually allows positoids to fuck guys without a condom and blame them later. As opponents of HIV "criminalization" always then say, it takes two to tango. This is the philosophy McCaskell claims to be "familiar with."
At this point I would recommend never having sex with an opponent of HIV "criminalization," and not just because you'd be sleeping with the enemy.
All this will continue unabated until Tim McCaskell dies, which apparently he won't
Tim McCaskell has spent a lifetime engaging in activism. He has also engaged in mischief and subversion, both of which will continue unabated until he finally croaks. But as a long-term AIDS survivor, McCaskell has shown himself to be effectively immortal, so there's no end in sight.
---
Have Whites rewritten blacks out of Toronto "queer" history?
No, because blacks played almost no role in gay and lesbian political organization, and journalism, in Toronto.
Let's hear what Mrs. Syrus Marcus Ware has to say. Ms Ware is well known in these pages. She is such a heroine of queer activism that she has her own namesign. Ms Ware also claims to be a male, despite the fact that she and her identical-twin sister are both female. (Monozygotic twins are never of opposite sexes.) In a free society she can call herself male all she wants, though I can attest that, with one's back turned, that voice tends to give the game away.
One thing she doesn't lie about being is black. How did Quotidian Xtra report her remarks at a public forum ostensibly celebrating the Body Politic that instead turned into a venue to defame it and its contribution to history?
Syrus Marcus Ware… urged the audience to use the experiences and narratives of black, indigenous and nonwhite queer and trans people as a starting point to understand LGBT history throughout North America.
I'm tired already.
"By doing so, we gain a different entry point into trans and queer collective timelines of resistance and archives and we interrupt the way in which these omissions produce a whitewashed canon," said. "The holes in our archives tell larger stories than the actual content."

Ware said that often speaks about the need to include these histories in queer and trans archives with hite gay activists. "I talk about the important work of trans women of colour leading our movements both in Toronto, but also in New York and across North America," he said. "And on more than one occasion they lean forward and said to me, 'You know it's not true.' They feel such confidence in their own memory as being the memory, the archive, the impartial record of human history, that we simply are not there, we were never there in their minds"
"We" do tell "you" it's not true. We are the memory, the archive, the impartial record of Toronto gay and lesbian history. We tell you – to your face, leaning forward if necessary – that you simply were not and never were there, not just "in [our] minds" but in fact. There is historical truth and we are the repository of it. We wrote the archive and you weren't there.
Still don't believe us? Take it up with Tim. He wrote it all down.