(UPDATED) I joined thousands who wandered through the OCA(D) graduates' expo this year. The fatwa having apparently been lifted, tall Dutch-origin gay ginger designers did not look to the side while serving platitudes, and crone-like faculty did not pull bemused students straight out of the room after I began talking to them.
Something else that has been lifted is my self-imposed ban on critiquing these students, who had just graduated from an accredited course yet had clearly never been subjected to a crit in their lives. This year – at a certain age, one begins sentences with "this year" – I'll focus on a theme I brought up with several students: Minimum Viable Product. I saw four, and here's the best of them: Bronson Rabishaw's Avalanche jacket.
Bronson doesn't include this, his most important work, on any of his profile pages. I'm sure he'll fix that , plus shoot a few videos and just license the damn thing. (I borrowed the photo above from his Instagram.) But to start at the beginning: Yes, a designer named Bronson. This 22-year-old was inspired by an Arc'teryx inflating backpack, which, oddly enough, I had actually held in my hand recently. (Just this past weekend, I found another hole in my 20-year-old Arc'teryx backpack. I'm a fan of the marque. "Arc'teryx," a diminution of archæopteryx, has stress on the first syllable, as I have to remind everyone, especially Millennial store clerks.)
Bronson's jacket (GradEx project page) contains what amount to airbags that inflate if you tumble into something, including walking straight into a tree, an outcome an inflatable backpack does nothing to protect against. (But the jacket does protect your back, with an airbag even over the lumbar spine.) The Avalanche has sewn-in standards-compliant beacons that can be activated by distant transceivers (a word I had to teach Bronson).
There were umpteen months of planning, but Bronson told me he spent 3½ months sewing the prototype jacket from scratch. He further told me he'd never sewn anything in his life. I've worn Gore-Tex® or equivalent jackets for a quarter-century, and I can tell you this prototype is three steps removed from any level of quality you would find even in Chinese knockoffs, one of which I wear. Here I'm talking about slightly off-kilter seams and threads, and an asymmetrical central zipper that doesn't work for the right-handed majority.
But it's functional. It's a wearable garment. He made it from zero with no experience. It's even got a lining (tricky to attach), and some nice material choices where such things shouldn't matter and could be overlooked, like the ripcord and its "handle," for want of a better term.
I recall the episode of the reality show The Great British Sewing Bee in which contestants had to construct, again from scratch, what in British English is incongruously called an anorak. (It's a good word, encompassing "raincoat," "waterproof jacket," and "foul-weather jacket" all at once.) Contestants – in the uncomfortable homograph used on the show, sewers – had to figure out how to cut and pin nylon without leaving holes, and further had to figure out how to tape-fuse nylon variants that required different iron temperatures and timings on either side. Sewers with 40 years' experience made all sorts of mistakes.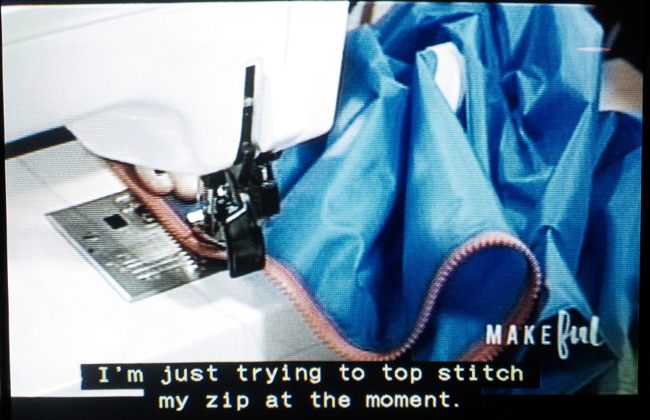 But they made no more mistakes than Bronson did on his first go.
I told this fella two things: Get on the blower to Arc'teryx right away, and start your next project that same day, otherwise you're gonna crash. "What – nobody told you about that?" "No," Bronson said, revealing just how little useful training a graphic-design education will leave you with. (You always crash after your show closes or you ship a project.)
Bronson is a graphic-design student. To his credit, he decided to ignore that and invent his own marketable object. (He did design an accompanying product monograph, which I didn't even look at. And his type is pretty bad.) Bronson – I say again – is a designer named Bronson and already walks, talks, stands, and dresses like a male designer, save for one detail. Unless he tumbles down a hillside in an avalanche while not wearing his own creation, he's got a good future ahead of him.