I don't go whining to Black Lives Matter when somebody calls me a faggot on the subway. Yet here we have BLM, operating as its wholly-owned subsidiary Pride Toronto, presenting us with a hideous Squarespace-templated Web site unwisely named UntilWereSafe. ("Were"?)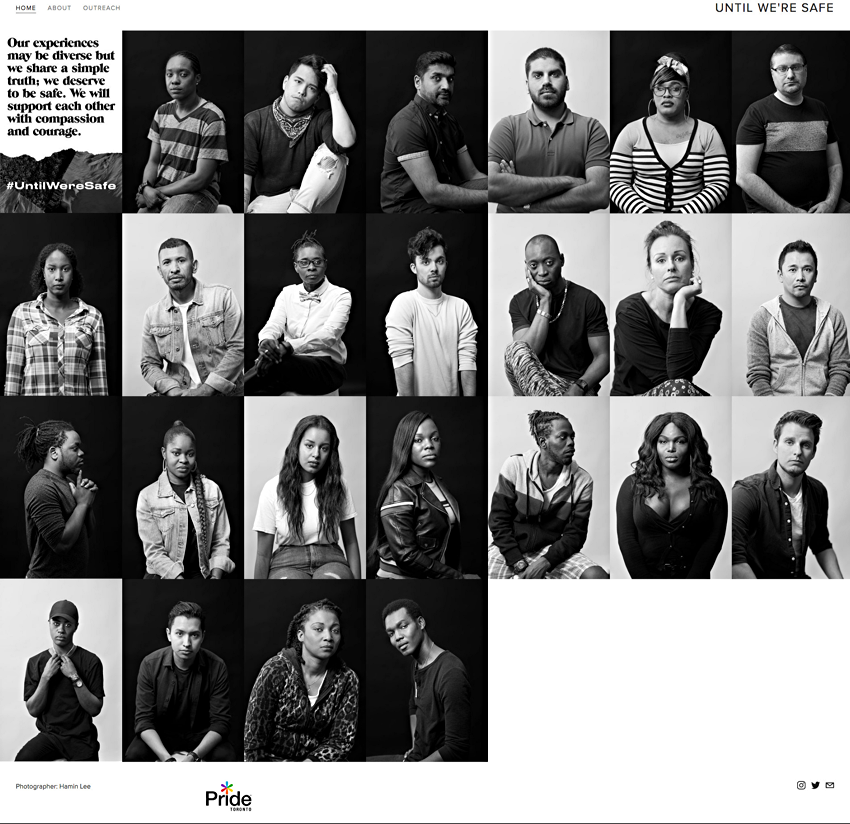 It's all about nonwhites, and only passingly about gays and lesbians.
There has been a clear increase in hate crimes and other assaults against our community

Yeah – mostly against Jews (66 out of 186 reports in 2017, up from 43/145 in 2016).

– particularly those that are racialized.

Not really.

Classing Muslims as "racialized" for the moment, Black (33), Muslim (33), Pakistani (4), Chinese (4), "Brown Skinned" (3) and Somali (1) amount to 78/186. All told, that's up from 59/145 in 2016 (a year with many more subcategories).

White and Canadian amount to 6 in 2017 (2 White in 2016).

None of these numbers are huge, and the year-to-year variance since 2008 covers 52 percentage points.

So yes, numbers are up grossly. But in a decade, the biggest city in Canada still has yet to break 200 reported "hate crimes." And none of those were real hate crimes requiring signoff from the attorney general.

There has been a long history of violence targeted at the LGBTQ2S+ community. Whether interpersonal, opportunistic or systemic hate crime, it's clear the problem is growing.

Nope: "LGBTQ" went down by two occurrences.

But the creators here aren't really concerned about gays and lesbians – just vizmins. They aren't interested in documenting violence; they want to portray Toronto as a cesspool of racism, of which transphobia and homophobia (in that order) are mere subsets.
I went through the entire site (by downloading it and paging through its source code, skills you don't need to be White to have) and categorized its subjects' claims. I corrected most of the endemic copy errors.
Only two subjects are White, not incidentally.
Vizmins hating gays, especially their own
Azeem: "There is still a lot of discrimination among black people."

Damaley: "I have felt unsafe at Jane and Finch. I feel afraid. I feel that I have to look over my shoulder. It's not an accepting area for gay people…. Sometimes people don't have to even say anything. It also comes down to racism. People say, oh, he's gay and he's black." Yet Jane and Finch is a notoriously black intersection…

… as Gail will confirm: "I live in the Jane and Finch area which is mostly made up of my own people – my own colour, my own background, and yet they make me uncomfortable because of who I am."

Haran (not explicitly Muslim): "I'm South Asian and I couldn't come out to my family, due to shame and honour." Unstated: They'd honour-kill me if I came out.

Ido (black female): "I had to live a lie…. I couldn't do it anymore. I had to start all over again, so I left everything and came to Canada. When I first got here, I stayed with friends of friends from my country. I had to hide that part of me when I was with them. They're from my community and they made comments that were insensitive and judgemental. I couldn't speak up because then they would target me. I had to keep my secret until I was on my own." Good thing you're here, then.

Sasha: "My parents used to always tell me about people who were stoned in our country," presumably Iran, "for transgressing in terms of their sexuality or gender identification. It was a fear that they would engrain in me. And whenever I would misbehave they would threaten to send me back home. So I associated the culture with brutality. It's one of the primary reasons why it took me so long to come to terms with my identity and so long to transition."

Again, good thing you're here, and yes, your country was worse.
Strong words or actual violence here in Toronto
Edgar (Mexican): "ll of a sudden these two guys were walking behind us and starting harassing us and saying we were both 'bottoms,' and using bad words. They were following us for only five minutes but it felt like 20. They were calling us faggots. They were older guys and they were drunk," which makes them sound like eldergays, not racists.

"I grabbed my friend and headed into a store and that was the safest thing to do. The people around us on the street didn't say anything but I understand that. I didn't want anyone else to bring into that situation."

Khumalo: "I was coming out of the train station in my area, and a guy, when I was walking past, said something along the lines of 'get away, faggot.' "

Princess (being situated in Toronto is merely implied).

Ty: "I've been attacked in the last five months on Bathurst St. and on College St. I was attacked on the bus on Bathurst. I was surrounded by people and no one said anything."
These are real, addressable incidents for Pride Toronto's own city. Nothing else is.
"Most homophobic country on earth," Jamaica
Shavanese: "I'm originally from Jamaica, and Jamaica is very homophobic, and living there as a lesbian woman you basically have to be living in double shells. The crime rate and the homophobic environment are very high…. There is no law there, even the police, there is no protection for you and it's all because of your preference and being the person who you are. And it's my country but I'm not welcome there and not safe there."

Sheldon: "I felt the least safe in Jamaica, either in public or even at home. Even at home, anything could happen – you were afraid of the gunmen… or the police coming to your house. They might beat you or kill you or force you out of the community because of who you are."

Sly (honourary mention): "I'm from the Bahamas," not Jamaica. "It's a Christian nation. Gayness is not permitted. They have standards and morals. It's like an abomination, it's not normal, it's not right. You have to be very discreet with your lifestyle. Back in the Bahamas I had a good life, my own apartment, a good job. I heard that my friends were getting attacked but I didn't really know what it meant.

"But then I got attacked, and getting attacked was what did it – what made me have to leave. On an island like that, when one person knows your business, everybody knows your business. Here, I can walk the streets. I can hold a female's hand. Things I longed for for a long, long time. It's like a dream I don't want to wake up from. Peace of mind is peace of mind and if you don't have that you have nothing." Once again: Good thing you're here.
Not really relevant
Candyer: Domestic violence (to which "they" were a mere witness)

Frank, whom I know slightly, talking about sign language

Josh (gay white male): "I was driving some people around for work and they were making remarks that were homophobic," and I didn't say anything. "I work in film, and if I want to produce or move to a position of authority, then I feel that my sexuality is looked down on. It's very much a straight environment. It's a feeling of judgement or subtle criticisms.

"If I am in a position of authority, then I have to put on a bit of a façade – maybe no one wants to listen to the gay production manager," not that my history shows I am willing to speak up at all, except passive-aggressively on this Web site.

Kemar: "I'm usually with a group that includes my trans or gay friends, and you hear people say, 'What are you doing here?' or 'You should be dead.' You wouldn't think that this happens in Canada – that's what we've run away from, in our own countries. It's not as bad here, but it does happen."
No claim of harassment or violence at all
Gelila

Isaac

Katalia

Matteo (high-school bullying)

Shakir (he's from Vancouver and doesn't like guys' "exclusionary language," which means he expects gay men to fuck him and never say no)

Stephen (not even remotely in the ballpark)
In an outlier case, Tricia, now clean and sober, describes untoward events in childhood and during her drunken phase, but does not even clearly "identify" as a lesbian.
Police hate-crime reports
Toronto Police makes its hate-crime reports almost impossible to find, and they're as well written and typeset as you'd expect. My local versions (both PDF): 2017 ¶ 2016.
What I actually say when somebody calls me a faggot on the subway
"Yeah, I am a faggot, but at least I graduated from high school." That always shuts them up. Even if they're "racialized."