(UPDATED) Every single thing Peter Saville (.info; q.v.) says is interesting here.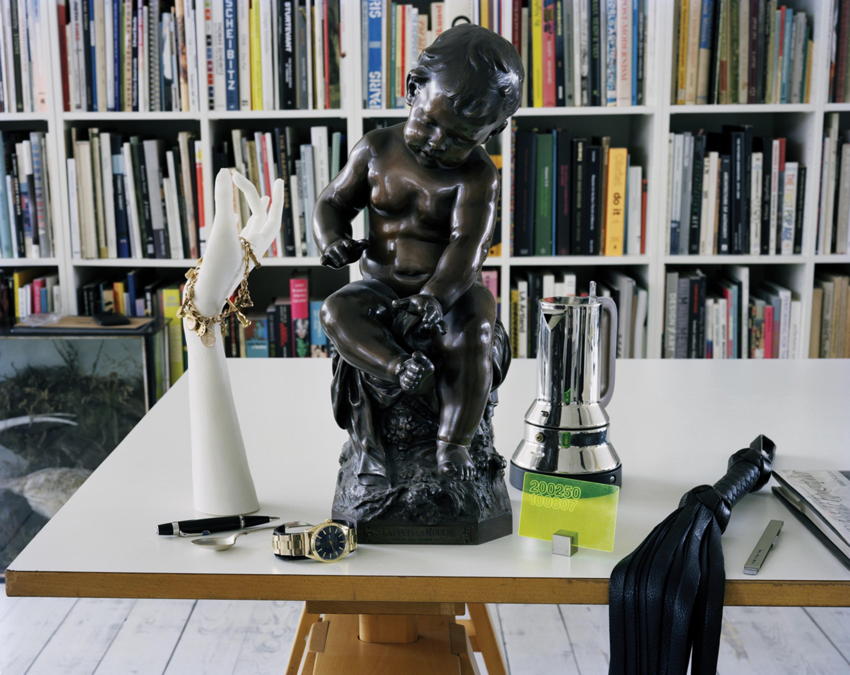 "Someone once asked me, 'What do you think got you interested in graphics?' When I searched my memory I had this recollection of being fascinated as a child by my mother's charm bracelet. The bracelet… has a variety of graphic symbols on it. […]

"The yellow Perspex card on the right is a pass I designed in 2007 for Tony Wilson's memorial service. Tony, who cofounded Factory Records, was the most important person in my career.
Update
(a day later)
Interview, 2015:
What is "the cult of Peter Saville"?

In many cases, people had a little moment with something early on that they hadn't had before – something that introduced an idea that family or state or school or life so far had not introduced…. And oddly, because of the canon of pop, it recurs in a way that one would not have imagined or expected. So of course, you know, in my case, Unknown Pleasures is required listening for each subsequent generation of young people…. There are certain visual things to do with Joy Division and New Orders covers which are slightly different. So that little moment of discovery of something that life might not have shown you yet, it still recurs.

And people my generation and older are kind of hardwired to forms of logic. We actually look for solutions in things; we look for logic; we look for understandings of the world. During my mid-career, analogue began to give way to digital – gradually, initially. Some of the work I've done with people has been about that transition…. The digital began to allow for a kind of a multiplicity of things, for things to happen simultaneously, for there to be more parallel strands going on in both digital practice and then, in a way, kind of digital experience.

The digital over the last sort of 20 years has really fractured and kind of become atomized. So our experience of things and our relationship to things is kind of atomized. The kind of previous almost pedantic way of things seems really kind of archaic now – that B would have to follow A, and then C and D, that there would be this kind of logical sequence of things. The era that I grew up in of isms, of romanticism or classicism or Vorticism… and the kind of mini-phases of fashion that were kind of self-contained, have given way to a kind of pluralism…. So our cultural experience has become entirely pluralist.