By unreasonable stroke of luck, I found out that Scott Thompson was running yet another one-man show. I'd last seen him in 2018 – a tight and well-constructed act that ended with an request from the crowd for one of his many oldies but goodies. (Everything, and everyone, is an oldie here.) "I knew I should have rehearsed this," he said, and still pulled it off impromptu.
The one-man show I saw on January 20 was a one-man shitshow. It took place in what barely constituted a "theatre," located as it was in the bottom corner of a gruesome postmodern condo, with asymmetric zinc cladding, on Bathurst at Queen. (I like postmodern buildings.)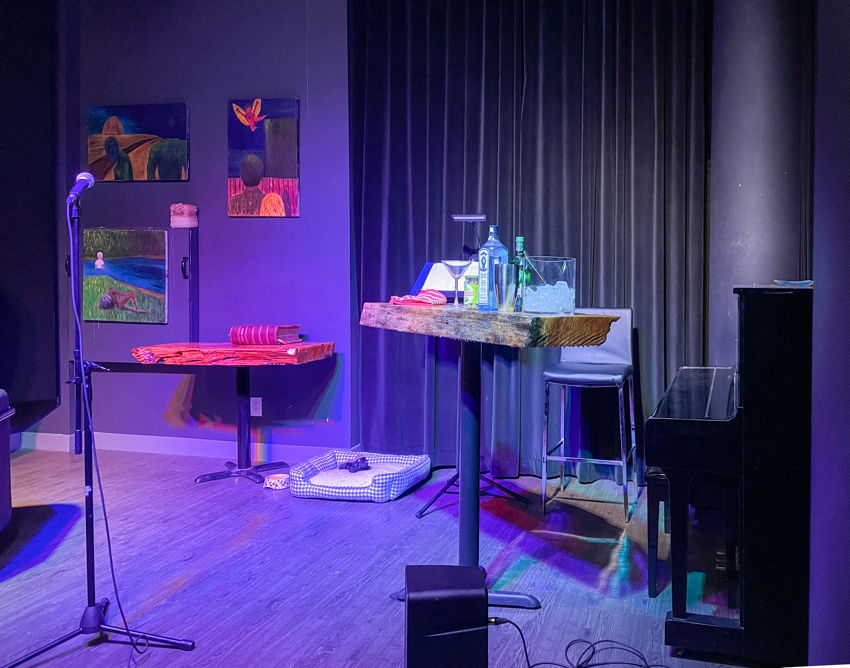 I remember getting yelled at by a functionary at a Broadway theatre in the '90s that every show starts at 8:00, and that indeed was the listed start time. A flotilla of eldergays and equally fat cranberry-dyed faghags muttered to themselves, when I "nonchalantly" walked "past" the place at 7:40, that they wouldn't be opening the doors till 8:00. Nope: They didn't let us into the house for a full hour. Certainly gets one in the mood for ribald comedy to stand interminably in the cold next to a screechy streetcar turning circle (and hidden washroom frequented by drivers and cops).
Well into this delay, a girl with expensive curly hair and too-tight blouse and leather trousers – I was able to notice only because she wasn't wearing a coat – bounded out of the place along a sidestreet. She works there and she's getting something out of her car, I thought. Lo and behold, the soi-disant falcon doors of a Tesla X levered up halfway, and in a moment she pranced back with a microphone cable. All this while, some kind of tender had been futzing at the makeshift bar, for zero customers. (This was on the show's second night of three. Still didn't have the bugs worked out?)
The skeeziest Jew I've ever seen welcomed us into a tiny room with 44 available seats. (Hence over its three-night run, even assuming a guest list of zero, the whole production could not have grossed more than $3,690, less inscrutable fees.) Our compère turned out to be an Iraqi Jew who was, of all things, actually amusing. He's halfway got an act already. But, in his charm bracelets and layered untucked shirtings and ballcap, he looks exactly like the kind of shaggy heterosexualist who makes it seem like he's cool with the gays till, as with doomed, tack-sharp Klaus Nomi, the wardrobe betrays the truth:
A trans child is so much more chic than a plain old sissy, Buddy keeps telling us. Buddy Cole is so much more fun to organize around than a severe and exacting eldergay like Scott Thompson. ("Underminer" really is our byword, I see.)
Almost two hours after I arrived, and from a green room we could see into, Scott emerged as Buddy. His smoking jacket too small and his shirt wrinkled and stained (keep a rack of identical white button-downs and change into one at the last minute), Scott proceeded to set up a lectern, complete with LED illumination he couldn't figure out how to turn on ("I should have practised") and which he left glaring at us afterward.
On this lectern he plunked a loose-leaf binder of material. (He'd moved it from the nearby bar. In a sacrilege, Buddy Cole could not sit in front of his own bar.) Scott would later misuse the term "off-book"; for half the show he read notes as a jumping-off point. I used to do that at Web conferences, where I was funnier.
Of course he roasted, and made part of the show out of, the heterosexualists in the front row. (I was one row behind them at the edge, crossing fingers I was invisible.) I looked around repeatedly and kept asking myself if I was the sole eldergay in the house. Notwithstanding the original queue outside in the cold, one might have been able to seatbelt us all into a Tesla X.
Scott should have practised or rehearsed any number of other motions lacking sprezzatura, like opening a giant bible to one of many marked pages, mixing a drink, and just sitting down. Scott delivered his usual beautifully dense writing and well-crafted diction, but I'd heard half his material before (trans kids are so much more chic, &c). A bizarre name-drop of online Internet services came off rather bathetic, given that the most modern technology Buddy should ever have made use of is a fire extinguisher, or the cradling arms of a negro fireman.
He and I very distantly know each other. It's been a few decades since Scott would pigeonhole me in the subway and interrogate me, at length and on many occasions, as to why he, an openly gay "actor," was not regularly fêted on the cover of Xtra (q.v.). I certainly recall visiting the Kids' offices atop Northbound Leather circa 1993 (for, of all things, an article for Ray Gun, which their fat faghag assistant, a phenotype way ahead of her time, tried to undermine).
Scott's been unfailingly kind and sunny to me since those long-ago epochs. I don't think I was actually invisible to him, nor do I think it went unnoticed that a seat in the second row was empty after intermission.
The cultural era of the eldergay is over
As I point out every five minutes, once our generation and the generation right behind ours finally dies (to the joy and exultation of shitlibs, vizmins, dismantlers, fat faghags, and every other invasive, cancerous, or indeed undermining cohort with a lot to repent for), gay will be over.
"Eldergay" – a term coined by DataLounge, and found in the New York Times almost as often as "autogynephile" – already is over. Nothing will succeed us. Nothing gay that follows us could succeed. That should be telling us something, and I know what that something is.