Another in a series of postings on CBC captioning (also see the separate page on the topic)
The seasoned reader of this blog (short for "Web log," a kind of online journal or diary) will be aware of the litany of problems observable in captioning on CBC, the national public broadcaster. I had previously complained about use of scrollup captioning on fictional programming (but not Godzilla movies!) and the perverse usage of British spellings when there actually is such a thing as Canadian spelling.
Well, paint me yellow and call me a cab, but CBC seems to be listening. But don't get your hopes up – they are doing so with all the resentment, peevishness, and anger which we associate with them. Additionally, the CBC captioning department's levels of Unclear on the Concept™ have now reached new highs.
How? Last night they ran a Godzilla movie with a kind of Romulus and Remus of scrollup captioning and half-arsed British spellings. Behold Terror of Mechagodzilla (メカゴジラの逆襲 – or, as the announcer misnamed it, Terror for Mechagodzilla):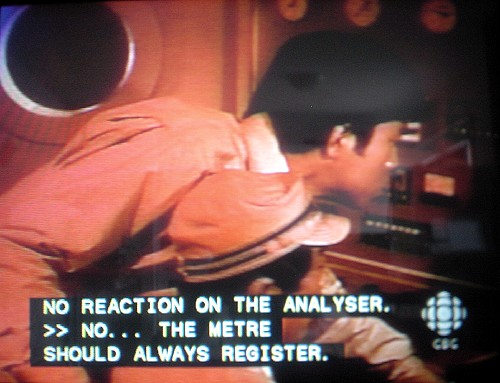 This would be a case of trying to fix two problems at once and blowing both of them.
I complain that Godzilla movies get pop-on captions but Doctor Who doesn't; instead of rounding up and giving Doctor Who pop-ons, they round down and give

ゴジラ

scrollup.
Presented with the facts of Canadian English (including -ize endings but some American words like meter [measuring tool]), CBC sticks with British -ise and writes meter as metre ("because metre is British and classy, you fool!").
We know CBC will do things like sort through its job applicants to find a résumé at the bottom of the pile from a man who really wants to be a teacher but, in the meantime, also wants to work at CBC. What odds do you give that Nugget captioned this movie?
If you aren't willing to take those odds, will you agree that they don't know what they're doing?
No? You won't? Because maybe this whole issue is much too tangential and obscure for you? Well, why don't we take a look at how well these wankers manage to transcribe two minutes of dialogue? Surely you think mere accuracy of transcription is important. (Some people think that is all captioning is.)
Dialogue

— We're here. This is the area where we start our search.

— We'd better submerge. We'll start when we get down there.

— Understood. Start the descent.

— Start the descent. Depth 750.

— The wreck of Mechagodzilla must be scattered around somewhere near here. If we find it, look especially for the head and pick it up carefully.

— Understood.

— Depth 200 metres.

— Switch on the deep-sea light.

Caption

>> WE'RE HERE.
THIS IS THE AREA WHERE
WE START OUR SEARCH.

>> WE BETTER SIT BACK, WE'LL
START WHEN WE GET DOWN THERE.
>> UNDERSTOOD.
START THE DECENT.
DEPTH 750.
>> THE WRECK OF MECHAGODZILLA MUST

BE SCATTERED AROUND SOMEWHERE
NEAR HERE IF WE FIND IT.
LOOK ESPECIALLY FOR THE HEAD
AND PICK IT UP CAREFULLY.
>> UNDERSTOOD.
>> Man: DEPTH 200 METRES.
>> SWITCH ON THE DEEP SEA LIGHT.
Note the misspellings, misrenderings, deletions, and spurious linebreaks.
Still think this is too picayune and marginal?
If you work at the CBC (indeed if you are someone like Nugget, Peggy Zulauf, or Brigitte Ouellet), do you still think your captioning is as shit-hot as you tell me it is?
And, along the way, let me note that I unironically like Mechagodzilla as a concept. Makes Transformers, Power Rangers, and Ninja Turtles look like Johnny-come-latelies and parvenus, doesn't it?
So why'd they have to go and blow a good bad movie with bad bad captioning? Is someone feeling superior to the material, or is someone merely… incompetent?