Recently, I complained that the Society of Environmental Graphic Designers (SEGD) was in dire need of a blog. They've got a terrible Web site (an embarrassment even by 1997 standards), and their events page overwrites itself, thereby erasing their own history. (But these visual designers of signage will be happy to sell you an audio compact disc of certain lectures.)
Tomorrow, SEGD is holding a superspecial event here in Toronto. Let me excerpt the details so they won't be obliterated from the face of the earth later (and using markup nobody at SEGD would understand):
Metrics and Methods in Wayfinding and Identity

April 12–13, 2007, CNIB Centre 1929 Bayview Avenue

Sponsored by WSI Sign/King Architectural Products

Wayfinding and identity philosophy are among the most important aspects of design, but very rarely discussed on large architectural and urban projects. Perfect for design professionals and institutions, this workshop will focus on identity and wayfinding analysis for a variety of project types including urban systems, transit, healthcare, stadiums, museums, and retail. Michael Gericke of Pentagram and Andrew Kuzyk of Entro Communications will lead a panel debating the approaches of each participant for each specific area.

The Issue with Identity

Michael Gericke, Pentagram

Award-winning Michael Gericke will begin with an overview of key issues affecting identity, including:

Balancing the desire for uniqueness with the needs of universality
Establishing an identity through color, typography, and material
Balancing the visual and the experiential

The Issue of Wayfinding

Andrew Kuzyk, Entro Communications

Leading wayfinding consultant Andrew Kuzyk will discuss his philosophy and standards on leading wayfinding issues, including:

Balancing non-graphic cues with environmental graphic wayfinding
Verbal and non-verbal information
Complexity of hierarchy; how much complexity can we handle?
Mapping
Interactive systems
After I saw that, I complained to Craig Berger of SEGD: "Why isn't there a provision for media to attend SEGD seminars and presentations? I work in the field, even if I am not an SEGD member (let's say 'yet' for the hell of it), and am one of the few people who even links to your site." I have to disassemble his top-postings from several E-mails to report his response here. (Incidentally, Craig is unable to Google the phrase "top-posting.")
The last one is a good idea. I will be sure to include it…. t would be great if you could cover for the media. Please send your full information to me and to Jennette and will be sure to issue you a pass.
I established my credentials. There was quite a delay, then this response from Berger (quotation marks sic):
"Thank you for your interest and support to cover our local event however we currently have two magazine sources that will be covering the event at this time. Should we require additional coverage in the format of a blog we will consider you."
And about 45 seconds later, I told him "That's the wrong answer. You're reneging on your word."
So let's sum up
A small graphic-design organization attempts to do business in the 21st century with a lousy Web site, with no blog, and with an ancillary business selling audio recordings of visual presentations.
The organization accepts that online media need accreditation, and actually offers it.
The organization then renegs on its offer in favour of "magazines" that will appear months after the fact, if at all, and will publish only a small précis.
Why is it being held at CNIB?
I assume the event is being held at the CNIB headquarters for the following reasons:
Entro, the design co-consultants for Toronto airport wayfinding, used CNIB to recruit volunteers to test signage with visually-impaired people. I assume Entro is unaware that CNIB wishes to completely dominate every aspect of blindness in Canada, and that groups like the Alliance for the Equality of Blind Canadians object to this sole-source-charity model.
CNIB makes great hay about the accessibility of its new building. (Why, two people in wheelchairs with service dogs can pass each other in the hallway!) Far from being "widely acknowledged as a groundbreaking model of universal design," it is an object lesson that "universal design" is a term uniquely applied to items custom-designed for the disabled. (Quick: Is your car "universally designed"? Your toothbrush? Your computer? Your city?)
CNIB is quite intent on promoting itself as consultants of some ilk. I know for a fact that a signage system was recently tested in their building. And, at a recent Web-accessibility seminar, CNIB staff took time out from giving incorrect information to plug their consulting services five times.
And about Entro
Entro and mighty Pentagram codesigned the new signage system for Toronto's Pearson Airport. It was tested extensively, and designers eventually won the power to force architectural changes (e.g., relocating elevators) to make wayfinding work better.
Except when it doesn't, as in this case, where the sign tells you to walk through a glass wall. (Not only did I look at it, I confirmed it was really a wall with the guy standing there, who knew all about the problem.)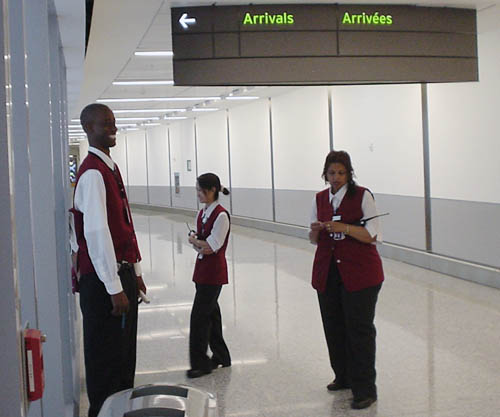 Everybody makes mistakes, of course. But when Entro makes mistakes, its "leading wayfinding consultant" gets invited to give a lecture, carefully sequestered from much of the press.
It's very much as Paul Arthur said back dans la journée (Gerald Levitch, "Signage in the rough," Globe and Mail, 1993.05.20, coïnciding with SEGD's 20th anniversary):
[…] "Tell me, Mr. Arthur, where were you trained, and what do you do?"

"I turned to him," says Arthur, "and said, 'I'm glad you asked that question because the only training I have is in the English language and literature from the University of Toronto, and most of my colleagues and peers have similarly irrelevant degrees. We really have no training. And everything we do comes out of our back pants pocket. It's purely empirical.' " […]

Still, he acknowledges, it remains an unusual professional society in that its profession remains an unofficial, fringe activity…. Twenty years after founding SEGD, complains Arthur, "We're still not perceived as professionals."
With SEGD as their official organization, I wonder why not.