Sean Avery is an ugly goon with a great body and more self-confidence than any man on the planet.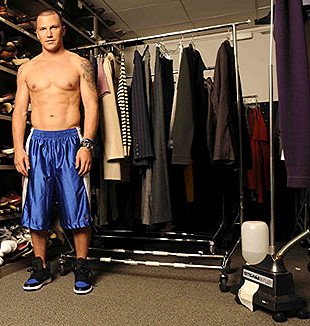 S. Avery (detail)
Ostensibly credited to Hannah Thomson of Vogue,
but neither this photo nor a similar one appears there
He'll stand in front of you at net and wave his arms for 15 minutes. When out of skates, he dresses like a model. Avery adores fashion so much he worked a celebrity internship at Vogue and Men's Vogue (Cf. sports and women's sports). I'm not sure it is possible to be straighter than Sean Avery is. Maybe Shanahan – I dunno.
As such, Sean Avery is the first viable progeny of a generations-long eugenics experiment by heteronormative "men's magazines" – Esquire, GQ, Details ("for men"). Like endless cloning of sheep that only ever produced a Dolly, for decades the men's magazines insisted, in an inverse J.D.s manner, that a tribe of indisputably heterosexualist males obsessed with hair, "grooming," and above all clothes! clothes! clothes! was visible to the naked eye in upper-echelon white-collar offices throughout the civilized world. As with brutish right-wing talking points, this twee left-wing talking point, if repeated often enough, eventually had to come true.
It did. Once. Only. In Sean Avery. He illustrates the limits of cultural gene-splicing. Readers of men's magazines are female and gay, and the men who dress like the models in those pages are effeminate and gay or Sean Avery. There really are no other categories.
Should you be interested in engaging in a discourse with Avery over his position in the masculinist-fashionisto continuum, I would suggest visiting the beach, where he will manfully defy the phalliban by "rocking a straight Speedo all summer."
RELATED: I recently disposed of nearly 200 unwanted issues of "men's magazines." That experiment is over, too.