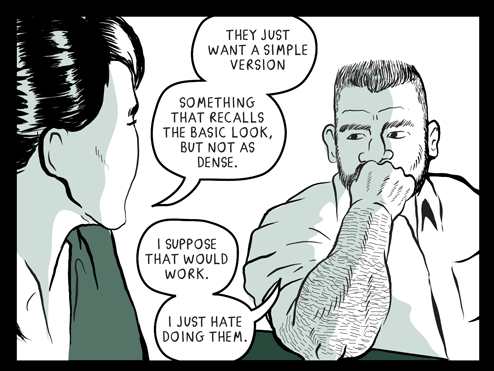 Detail from Steve MacIsaac's Shirtlifter 3. (He's from Nova Scotia, incidentally, and put in time as a gaijin in Japan.) The dude with the hi-'n'-tite haircut and individually discernible hairs on his giant forearm, Matt, co-owns a graphic-design firm in Vancouver with his business partner, a woman who is, curiously enough, Japanese.
Now, where Matt finds time to compete in Olympic powerlifting events or do plyometrics training for the Canada 2 bobsleigh team remains unstated, but the important thing here is to recognize he is purely aspirational. As I, and only I, keep reminding you, barely any graphic designers are homosexualist males. Typically, designers are trim, handsome, nicely dressed and generally well-turned-out liberal heterosexualists – like the lovely Michael Surtees or the prototypical graphic designer, Doug Bowman. Wymmynz? Yes, there are wymmynz designers, I suppose. I'm sure they're fine – and grievously underappreciated, a problem that might disappear if Heller didn't write one-third of all "design criticism."
Of homosexualist graphic designers, one is an epitome of men's fashion (Roger Black), one has pink hair (Patric[k] King), and one is Dutch. There are a couple of others. None is a musclebear, none weighs over 200 pounds with under-10% bodyfat, none has pointillistically distributed body hair, none doubles for a Colt pinup, none has an ass so large his suit jacket needs a vent below the waist so it won't bunch up, and none would be unironically heralded as a stunning specimen of manhood even by construction workers, Mike Rowe, or other graphic designers. MacIsaac likes musclebears and graphic design; obviously peanut butter and chocolate need to be reunited.
As with so much in the world of comix, Matt is a fantasy. After the manner of J.D.s, which posited that dull Toronto was overrun with queer punks in braces, tight distressed jeans, and 14-hole Docs, Shirtlifter imagines a future in which the only realm of the visual arts not overrun by homosexualists finally gets colonized. And Japan, despite its distance, will never be far away.