Here, from his account "on the Facebook," is Josh Levy baring his two best features, fangs and abs.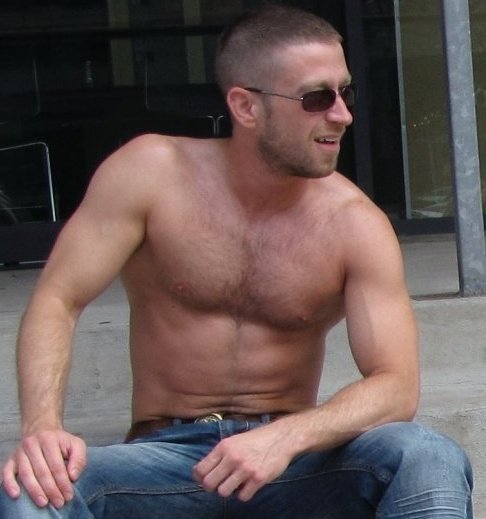 The latter have allegedly "caused a minor traffic accident."
Levy's latest piece offers the uninviting academic headline "Exploring the homoerotic undertones of mixed martial arts," but writers don't always, or even often, write their own heds. Ever since Levy got religion and started going to the gym, he's become Toronto's de facto chronicler of what that other intellectual calls sporno.
You will recall Levy from Locker Room, the former series that PrideVision reran into the ground back when we were fooled into subscribing to PrideVision. He was behind the scenes. He's made a good living shooting fun commercials and videos, and, according to his various updates "on the Facebook," is in L.A. writing a script. If only he could get invited to one of Bryan Singer's pool parties.
Levy is now quite interested in sports and physical activity. He needs straight guys to help him tell his tales. Last time it was Mike Takacs, a strapping heterosexualist comedian. This time it's the leader of the Intergalactic Rock Star pack, Robin Black. (This former hairdresser – perhaps he still is a hairdresser – æsthetically disapproves of body hair, so the depilated torso shown in the accompanying photo is at least expected.)
I find it trite to read yet another claim that these wrong-side-of-tracks fighters are "hot." I suppose they are, but we've heard that before about, say, amateur wrestlers. (And Levy conforms to the alt-weekly narrative of cage fighting, inviting along "a sweet, intelligent artist in the tradition of the poet–warrior." Those guys are marginally more common in the sport than gays are.) Where Levy loses credibility is his claim that the actual practice of mixed martial arts is "hot." Amateur wrestlers doing amateur wrestling aren't "hot" either. It's a well-trod path and Levy was lazy to wander down it yet again. Next he'll be telling us straight guys like to watch girls making out.
What remains unexamined is why such a confident go-getter is still hankering after hot bullies like some kind of closeted small-town teenager.
Regardless, he's pulling the whole thing off with manly panache, but what I want to tell him is this: You didn't have to sit there Googling old Times articles if you want to find an actual homosexualist "mixed martial artist." You could have just read a blog entry from your "Facebook friend" and ask him who he was talking about.
Josh Levy's "friends" suck
(UPDATE, 2009.07.27) Levy's Facebook "friends," most of whom are there because they hope he'll fuck them someday, have proven themselves to be illiterate creeps. As such they are well adapted to the future of our diverse gay communities. With friends like these, Josh?