(UPDATED) Don't Quit Your Gay Job is a series airing on precarious homosexualist diginet OutTV that has no business being as good as it is. (Also on the iTunes.) It isn't spectacular, but the show doesn't let a low budget and rather poor production values (including no goddamn captioning) queer a good idea.
The exercise is taken with just the right seriousness, with no ironic distancing from the task of actually learning the job. You'd think from the title that cohosts Rob Easton and Sean Horlor try out stereotypically gay jobs for shits and giggles, but in fact the jobs seem to run the gamut from curler to bus driver.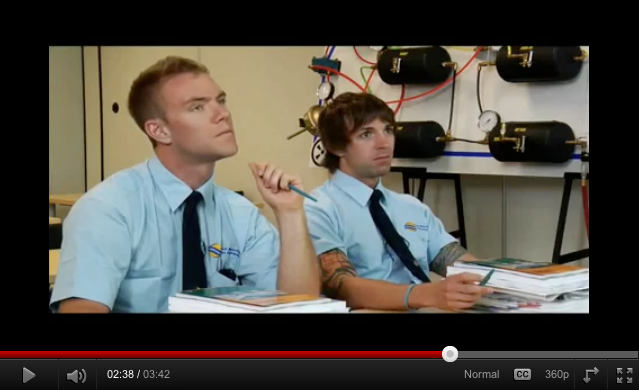 (The show with the highest chance of fiasco seemed to be the one on horseback riding. Avoided, though.)
I was surprised to learn there'd be a second season. And pleased. Then we kept running across an oddball commercial for one of OutTV's few advertisers, Richmond Honda. The commercial leaves the impression that Easton actually sells cars there and Horlor actually works on its Web site. They're listed elsewhere as having various freelance jobs in radio production and "communications," but: That's what these guys are reduced to? Working for one of the few advertisers on the network that carries their show? (It's a bit like 1950s television, is it not?)
I asked Horlor via the Facebook about this, and mailed Easton at obvious addresses; no response. Richmond Honda also didn't respond.
Here is my point.
My point is that Canada has a lot of astonishingly crappy TV shows with derivative or half-assed ideas. This one isn't. It's hobbled by lack of budget. Even what other producers consider an anemic budget on their own shows would be a windfall of cash for Don't Quit Your Gay Job. Shouldn't this program be on CBC?
Actual response from Sean Horlor
(UPDATE, 2011.09.19) Sean Horlor eventually noticed my Facebook message hidden in some obscure folder or other and writes:
That Honda commercial was something we shot between seasons. The recession wasn't kind to Canadian productions based in Vancouver. I viewed it as an opportunity for Rob and I to get something new on the network while we were waiting to film more episodes and let people know that we hadn't vanished entirely.
All right, but is it true or false that Rob works on the Richmond Honda floor and you do some kind of work on the Web site?
False. That was the creative treatment for the commercial. Neither Rob nor I have ever worked at that dealership.
Financials
I removed a couple of sentences from the earlier version of this posting that did a half-assed job describing OutTV's precarious financial position. Here, from the CRTC's reports on specialty-service financials, are selected income and expense numbers from the last three years.
Category
2008
2009
2010
Revenue
Not direct-to-home (DTH)
$892,459
$1,021,345
$976,783
DTH
1,469,207
1,679,676
1,848,227
National advertising
180,042
162,408
83,305
Other
26,805
139,386
80,569
Total
$2,568,513
$3,002,815
$2,988,884
Expenses
Program
$1,263,611
$1,706,955
$1,826,757
Technical
903,385
1,027,920
927,066
Sales and promotion
227,279
218,330
188,823
Administration and general
248,823
459,584
377,424
Total
$2,643,098
$3,412,789
$3,320,070
Profit before interest & taxes
–$123,853
–$452,946
–$370,126
Financially, OutTV is losing proposition even with half a million subscribers.
Another update
(2011.11.25) The show's producers are out of ideas and are trolling for spec work.