(CORRECTED) The ACT UP Alumni Reunion was last night. This is seriously the banner art they used for it: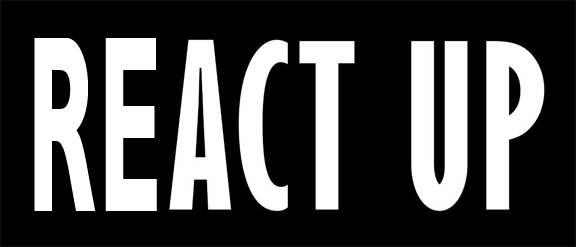 Gran Fury would be rolling in its grave were it not for the fact that Donald Moffett et al. are all still alive. Some dumb twat banged out the RE in scrunched Arial instead of spending at most 40 bucks to retypeset the word in its original typeface, Gill Extra Condensed Bold.
Gays, who should know better, are willing to besmirch – here, to rewrite – gay history. I thought we had heteros to do that for and to us.
Also on the topic of ACT UP graphic design
There's an entire exhibition on.

Avram Finkelstein disputes the accepted history of the SILENCE = DEATH logotype (not once but twice). But he didn't answer my mail offering him all the space in the world to prove what he says. (He could still be right.)

The other month I flipped through AIDS Demo/Graphics (sic) for the first time in 20 years. I see now I was too young the first time around to understand what a crashing theoretical bore it, and its insufferable author, are. Graphic design is resistant to theory.
Lifetime Achievement Award in
Retroactive Misapplication of Queer Theory
Just as you would do in response to someone who spontaneously clobbers you with a term like abortuary or rape culture, anybody who uses the word intersectionality and means it is somebody you cannot trust.
A worst-case scenario of retroactive misapplication of that LGBT buzzword has to be Julianne Escobedo Shepherd (no relation). She had the temerity to criticize ACT UP for having been too white. Buddy Cole would say "as if anything can be," but what I said instead is that ACT UP saved millions of lives. All this catchphrase-wielding vizmin has managed is writing a few music reviews, which I can say from experience is easy to do badly.