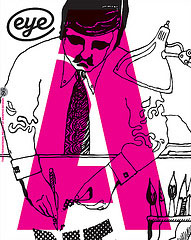 Chronicling of the already-chronicled, plus intentional misrepresentation of history. It's another issue of Eye.
Rick Poynor, once again defining the "neglected"
Who won this issue's Eye Hagiography Sweepstakes? Eduardo Paolozzi. He was an Scottish collagist whom Rick Poynor (inevitably) describes as "neglected." Except for the fact that Poynor wrote the copy for this double-pager about him that is itself tied to the news hook of a gallery showing, complete with published monograph. Then there's the additional touring exhibition. And Paolozzi was knighted by Her Majesty. So yes, "neglected."
Poynor's confusion hypocrisy is summed up well in this Orwellian sentence fragment: "despite his knighthood in 1988 – or maybe, in some way, because of the establishment's embrace – Paolozzi had become a critically neglected figure." I guess "critically neglected" means "It took the only critic that matters till Eye 86 to write about him." Except it doesn't even mean that, because there's a second book in production about Paolozzi, Poynor admits, "for which I have written the introduction."
And (can you believe we aren't done yet?) how can Paolozzi be "neglected" if a "presentation" of his collages "to members of the Independent Group at the ICA in London, in 1952, was a defining moment of what would later be named Pop Art"?
Where's the neglect? [continue with "'Eye' 86" →]