Awesomest photograph of adaptive technology – here, the Titan Arm.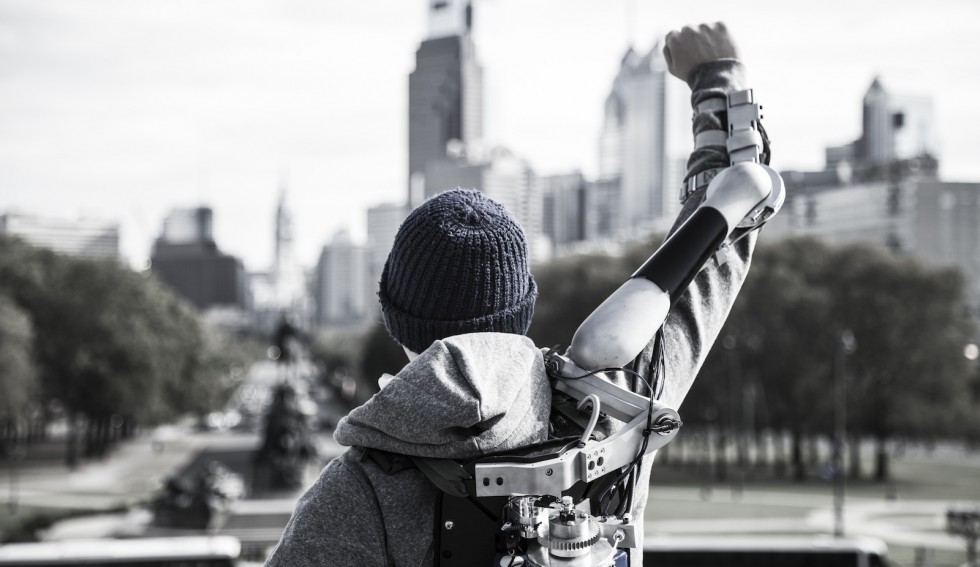 (Nobody could tell me who the photographer was.)
The foregoing posting appeared on Joe Clark's personal Weblog on 2014.04.18 15:49. This presentation was designed for printing and omits components that make sense only onscreen. (If you are seeing this on a screen, then the page stylesheet was not loaded or not loaded properly.) The permanent link is:
http://blog.fawny.org/2014/04/18/titanarm/
---
I told David France I was so brand-loyal to How to Survive a Plague (q.v.) that I wasn't even gonna watch United in Anger. He pooh-poohed all that and told me to look at the two films as companion pieces.
Since documentary is a home-video medium, it never made sense to attend one of the theatrical screenings, especially when they were Sarah Schulman–implicated or QuAIA-sponsored events. So I waited.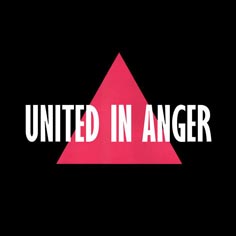 As of the end of March '014, you can download or stream United in Anger on all the usual legitimate services. It is indeed very different and overlaps with its companion no more than any fraternal twins might. I liked it a lot.
To my surprise and delight, Jim Hubbard took my advice and hired the dying husk of Captions, Inc. to handle the captioning job. Apart from inexcusably misspelling Gran Fury as Grand (an error I insisted Jim Hubbard insist the captioner correct), it was a good treatment. That transcript can and should be republished online. But that's true of a lot of things.
A History Project needs to survive history
The ACT UP Oral History Project, the progenitor of United in Anger, aims to be what its name implies – a history. But the site is a mess. And I don't just mean it is an unreadable mass of grey whose homepage is an unskippable Flash movie. (Any site that has to give you an instruction like "To access video clips, please click on the photos. To download transcripts, please click on the PDF links" is an unusable site.) Specifically:
The codebase is terrible. Among many errors, the site uses tables for layout.

Videos are linked by sequence number (and even that you have to guess at), usually six to a page. Thumbnails really are as big as your thumbnail.

Transcripts are presented solely as PDFs, a sure sign that a Windows user with no technical skills was allowed to run amok. (Windows users, rightfully afraid of their computers and too scared to learn, believe the only way to publish more than 140 characters of text is as a PDF.)
Browsers are not going to get worse at any time in the future. Browsers will always be able to hack through the site and render it. But humans won't be able to use it any more than they can at present, and any device or system that is not a browser will not be able to manipulate that code. If this pretends to be a history project, it has to be able to survive through history.
Say it's the year 2027. Every single member of every ACT UP branch who was active before the invention of combination therapy is long dead. (This is going to happen.) I'm a researcher trying to understand what "gay" used to be. (For it will not exist then, and neither will we. This is going to happen.) I want to amass every statement made by Peter Staley. How do I use computer programming to extract those? I can't, because the site has no structure.
I could not make the site owners understand that transcripts have to be in valid HTML. The Web was invented to present text, and PDF is simply not necessary, but these facts could not be put across. What the ACT UP Oral History Project needs is a stem-to-stern rewrite in valid HTML, including conversion of all transcripts and a new database-backed interface that actually works. (Then the whole site has to be mirrored all over the place.)
I already asked Paul Ford, who of course has too much on his plate. I have no other leads at all. This, then, is a call for experienced developers to pitch in to unfuck this site.
Obviously the problem here is that even very liberal heterosexualists don't care (autistic-spectrum nerds least of all), almost no developers are gay, and all those gay developers are too young to even know what ACT UP was or why they should care. (If I'm selling one or two developers short there, aren't those the developers I need?)
So this is probably a lost cause, and the ACT UP Oral History Project will continue to be as useful and future-proof as a drawer full of microfilm. But I'm asking for help anyway.
The foregoing posting appeared on Joe Clark's personal Weblog on 2014.04.07 12:10. This presentation was designed for printing and omits components that make sense only onscreen. (If you are seeing this on a screen, then the page stylesheet was not loaded or not loaded properly.) The permanent link is:
http://blog.fawny.org/2014/04/07/uia/
I never feel more judged than by old friends.
English major from the West Island, terribly droll, one of several men I have known whose boyfriends were murdered. I found a cache of his old letters and postcards. (I have his 1994-era electronic mail, for he was as early online as I.) Both of us were young and depressed and we argued all the time. Once too often.

I see him on the subway, often with Whole Paycheque shopping bags in hand. He has matured into a full-fledged cinnamon-sugar bear while remaining slim. My last image is of looking up from Instapaper on my iPhone to notice him lean against the subway door and push up his spectacles to read his iPhone.

Buddhist librarian. Defies the implied traits of both by judging the most. Like the foregoing, achieves the improbable by being unlocatable online.

Engineer and former indentured servant to the Reichmanns. Vanished off the event horizon for years at a time, about which I worried every day. I see now he was near death on several occasions. Had the guts to leave this town, thereby leaving its mediocrity behind. Now does IT for online porn; works as an extra; and views television-episode recapping as a viable life course. Could not recognize a friend if the supplicant sucked his cock, a recently-instituted substitute and prerequisite. With him, my feelings are the definition of "mixed."

My virus-inscribed friend. He had a depressive episode or psychotic break just after the reëlection of W. and has not been the same since, a fact denied to my face on a visit here. Latterly has had the gall to salute the survivors, though not of his own breakdown and betrayal.
You see how this started out with regret and ended with anger. Imagine how angry these old friends will be. (The librarian would just laugh.) Indeed, this is only gonna get worse, because it isn't just me.
Systemically
In an era where gay males are being written out of history, ostracized, and erased in queers' and transgenders' program of cultural genocide, the crunching you hear underfoot is of the shattered friendships of aging eldergays – the men laughably described as "survivors."
The foregoing posting appeared on Joe Clark's personal Weblog on 2014.04.01 11:36. This presentation was designed for printing and omits components that make sense only onscreen. (If you are seeing this on a screen, then the page stylesheet was not loaded or not loaded properly.) The permanent link is:
http://blog.fawny.org/2014/04/01/vieuxamis/
Last week was the final meeting – "get-together," even – of Rainbow Bridges. This tiny, almost-unknown program, sponsored by a seniors' residence and funded (at $4,000) by the former Lesbian & Gay Community Appeal, held fortnightly social events in a rec room in a TCHC building at Jarvis and Wellesley. The intent was to bring together different gay and lesbian generations. (Memorabilia.)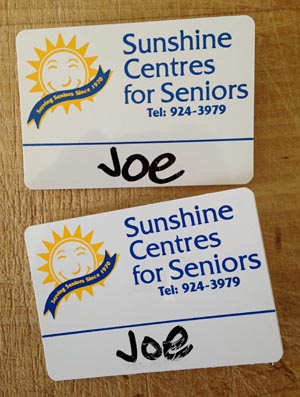 Of course this was expressed as bringing various "LGBTTIQQ2S" generations together. It would have been churlish to dismiss the program just because it used such a discredited acronym – which was taken seriously by one of the facilitatrixen, who never once said gay or lesbian. But not many transgenders showed up. (Their usual modus operandi is a reverse takeover. Not this time.) We all coexisted just fine. (During introductions: "I'm Joe and it's not in dispute that I'm a he.")
What really came as a surprise was the fact that young people showed up. I expected 100% eldergays and seniors, but no: "Kids" in their early 20s not only attended but talked to us. At least one was clearly not remotely out to his Jamaican parents in Scarborough.
Each session lasted three hours, and some of the activities were more suited to kindergarten. But it was always OK not to participate, and in fact we refuseniks got to know each other. This again achieved the program's actual purpose, because even if you stuck with the kool kidz at the back of the room you still met people.
I was surprised yet again when several sessions had interpreters (or one interpreter plus a student) and that deaf people actually showed up. (With the funding they had, there was no excuse not to pay the interpreters.) I have found over the years that gay and lesbian deaf people are much more willing to deal with hearing people. Not one of them had a life story that was not fascinating from start to finish. We heard about participants' life stories during the final exercise of the final session, in which people created or decorated or simply filled "memory boxes" and narrated the events signified by each decoration or inclusion.
During one of the breaks, we enjoyed the echt-Toronto scenario of a bunch of Hispanics yammering away in different dialects of Spanish while deaf people, ASL students, and one or two others yammered away in sign language. I doubt this could have gone without remark in New York.
And they fed us at every session.
So then: What happens next year? At the last session, responsible persons from Sunshine Centres for Seniors and the Community One Foundation attended, and what I suggested to them was that Sunshine Centres reapply for a different project that would still bring the generations together. Don't make this into an institution, I told them, but try something new with the same theme. One thing it dearly needed was more publicity.
I never expect Toronto's diverse LGBTTQQI2S✭ communities to do anything that acknowledges, suits, includes, or respects me. I now know of one project that did. This is not faint praise, let alone damning with same.
The foregoing posting appeared on Joe Clark's personal Weblog on 2014.03.30 13:27. This presentation was designed for printing and omits components that make sense only onscreen. (If you are seeing this on a screen, then the page stylesheet was not loaded or not loaded properly.) The permanent link is:
http://blog.fawny.org/2014/03/30/rainbowbridges/
☟ 

Gender trends of 2013: Trannies are not gay, not the opposite sex, and not who they say they are. (They insist they always were. They weren't.) Trannies are, in many respects, dangerous.
---
Michael Mason writes in to offer a socioeconomic history of, as he puts it, "the notorious 'pink pound' of legend" (edited):
A little about my background. I was news editor (and a director) of Gay News for eight years back in the '70s until I left to start a paper of my own called Capital Gay, which ran until the mid-'90s. There was much talk of the pink pound used by gay marketeers, as you say, including the advertising department at Gay News. A myth? Well, historically there was truth in it, though it died in the '70s.

You have to remember that before World War II, the general economic family pattern was for the male to act as the "breadwinner" whilst his female partner stayed at home to look after children and the home. Wages were set to allow the male to provide for a family (though, of course, the standard of living was much lower in those days). In poorer households, women would also take paid employment, but at absurdly low rates so that their incomes were commonly referred to as "pin money" – loose change, almost, saved for things like Christmas or the summer holiday.

It was during this period that the pink pound truly existed both for single gay men and for couples (gay men, not lesbians) with single gay men receiving a "family wage" and male couples a double "family wage."

With the birth of the women's-liberation movement and the passing of the 1970 Equal Pay Act, this began to change. Capitalists accepted the change with alacrity because the expansion of the labour force meant that they were able to reduce the average wage so that, today, two partners with average earnings have to work in order to take home a comfortable income. By the '80s, the phenomenon of the pink pound had vanished and the advertising crew at Capital Gay were under instructions not to use the phrase in any of their sales materials (though The Pink Paper continued to use it, he said irritatedly).

Your observations on the economic value of gay men's work is also interesting. Readership surveys at Gay News showed a disproportionate number of gay men working in the "caring" professions – teaching, social work, etc. – rather than the higher-paid competitive professions in industry and commerce. But again, historically, the picture was a little different because of the operation of the class system.

Before the passing of the Sexual Reform Act in 1967 and its partial decriminalization of gay sex, the closets of middle-class gays were built of much sterner stuff than those of working-class gays out of fear that they had more to lose materially and socially. So it was that the secret backstreet clubs for homosexuals/criminals tended to have a much stronger working-class ethos to them, with middle-class gay men venturing into them cautiously, as into a jungle. There was a lot of pleasing class confusion in these venues. On the one hand, middle-class men envied the greater working-class forthrightness about homosexuality; they were both excited by relationships with "rough trade" and initially fearful that they would be robbed or exposed if they went with a man less well off than themselves. But club regulars would get to know one another and trust one another, so that it was far commoner for gay couples to be of mixed class than heterosexual couples.

Out of this emerged a common model of the middle-class partner mentoring the working-class partner. And though that sounds patronizing and distasteful, the working-class partner would have new opportunities opening for him – theatre-going, foreign travel, and yes, wine-tasting. And though the clubs retained their working-class ethos, there was a great deal of fluidity in social relationships. I'm old enough, I'm afraid, to have experienced these clubs as a teenager/twentysomething, so I feel a certain nostalgia for the days where the classes mixed easily and unconsciously. I have a symbolic "black date" in the '90s when the class system returned: It was with the opening of the Village Soho, catering for young professionals with Filofaxes, where the beer was imported and sold in bottles at prices higher than a draft pint from Charrington's.

The effect of cross-class relationships was that it raised the horizons of many young gays, who became ambitious for – and were encouraged by their partners to become more ambitious for – higher-status jobs that paid more. It's often forgotten that, from classical times, pederasty – and many of these relationships were pederastic, even if they were not necessarily between partners of different ages – involved obligations on the more experienced partner to impart education to the other.

So it was that, before the '80s, gay couples appeared at least to have notably higher standards of living.
The foregoing posting appeared on Joe Clark's personal Weblog on 2014.02.15 11:43. This presentation was designed for printing and omits components that make sense only onscreen. (If you are seeing this on a screen, then the page stylesheet was not loaded or not loaded properly.) The permanent link is:
http://blog.fawny.org/2014/02/15/pinkpound/
---