---
---
---
---
Awesomest photograph of adaptive technology – here, the Titan Arm.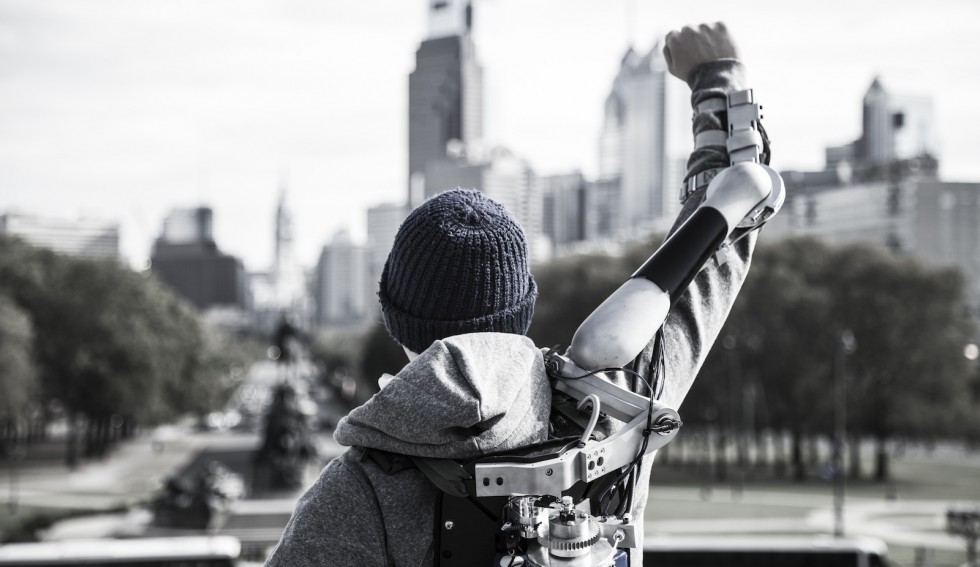 (Nobody could tell me who the photographer was.)
The foregoing posting appeared on Joe Clark's personal Weblog on 2014.04.18 15:49. This presentation was designed for printing and omits components that make sense only onscreen. (If you are seeing this on a screen, then the page stylesheet was not loaded or not loaded properly.) The permanent link is:
http://blog.fawny.org/2014/04/18/titanarm/
---
I told David France I was so brand-loyal to How to Survive a Plague (q.v.) that I wasn't even gonna watch United in Anger. He pooh-poohed all that and told me to look at the two films as companion pieces.
Since documentary is a home-video medium, it never made sense to attend one of the theatrical screenings, especially when they were Sarah Schulman–implicated or QuAIA-sponsored events. So I waited.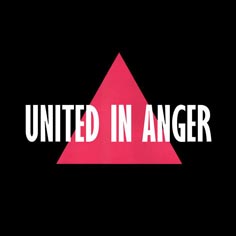 As of the end of March '014, you can download or stream United in Anger on all the usual legitimate services. It is indeed very different and overlaps with its companion no more than any fraternal twins might. I liked it a lot.
To my surprise and delight, Jim Hubbard took my advice and hired the dying husk of Captions, Inc. to handle the captioning job. Apart from inexcusably misspelling Gran Fury as Grand (an error I insisted Jim Hubbard insist the captioner correct), it was a good treatment. That transcript can and should be republished online. But that's true of a lot of things.
A History Project needs to survive history
The ACT UP Oral History Project, the progenitor of United in Anger, aims to be what its name implies – a history. But the site is a mess. And I don't just mean it is an unreadable mass of grey whose homepage is an unskippable Flash movie. (Any site that has to give you an instruction like "To access video clips, please click on the photos. To download transcripts, please click on the PDF links" is an unusable site.) Specifically:
The codebase is terrible. Among many errors, the site uses tables for layout.

Videos are linked by sequence number (and even that you have to guess at), usually six to a page. Thumbnails really are as big as your thumbnail.

Transcripts are presented solely as PDFs, a sure sign that a Windows user with no technical skills was allowed to run amok. (Windows users, rightfully afraid of their computers and too scared to learn, believe the only way to publish more than 140 characters of text is as a PDF.)
Browsers are not going to get worse at any time in the future. Browsers will always be able to hack through the site and render it. But humans won't be able to use it any more than they can at present, and any device or system that is not a browser will not be able to manipulate that code. If this pretends to be a history project, it has to be able to survive through history.
Say it's the year 2027. Every single member of every ACT UP branch who was active before the invention of combination therapy is long dead. (This is going to happen.) I'm a researcher trying to understand what "gay" used to be. (For it will not exist then, and neither will we. This is going to happen.) I want to amass every statement made by Peter Staley. How do I use computer programming to extract those? I can't, because the site has no structure.
I could not make the site owners understand that transcripts have to be in valid HTML. The Web was invented to present text, and PDF is simply not necessary, but these facts could not be put across. What the ACT UP Oral History Project needs is a stem-to-stern rewrite in valid HTML, including conversion of all transcripts and a new database-backed interface that actually works. (Then the whole site has to be mirrored all over the place.)
I already asked Paul Ford, who of course has too much on his plate. I have no other leads at all. This, then, is a call for experienced developers to pitch in to unfuck this site.
Obviously the problem here is that even very liberal heterosexualists don't care (autistic-spectrum nerds least of all), almost no developers are gay, and all those gay developers are too young to even know what ACT UP was or why they should care. (If I'm selling one or two developers short there, aren't those the developers I need?)
So this is probably a lost cause, and the ACT UP Oral History Project will continue to be as useful and future-proof as a drawer full of microfilm. But I'm asking for help anyway.
The foregoing posting appeared on Joe Clark's personal Weblog on 2014.04.07 12:10. This presentation was designed for printing and omits components that make sense only onscreen. (If you are seeing this on a screen, then the page stylesheet was not loaded or not loaded properly.) The permanent link is:
http://blog.fawny.org/2014/04/07/uia/
I never feel more judged than by old friends.
English major from the West Island, terribly droll, one of several men I have known whose boyfriends were murdered. I found a cache of his old letters and postcards. (I have his 1994-era electronic mail, for he was as early online as I.) Both of us were young and depressed and we argued all the time. Once too often.

I see him on the subway, often with Whole Paycheque shopping bags in hand. He has matured into a full-fledged cinnamon-sugar bear while remaining slim. My last image is of looking up from Instapaper on my iPhone to notice him lean against the subway door and push up his spectacles to read his iPhone.

Buddhist librarian. Defies the implied traits of both by judging the most. Like the foregoing, achieves the improbable by being unlocatable online.

Engineer and former indentured servant to the Reichmanns. Vanished off the event horizon for years at a time, about which I worried every day. I see now he was near death on several occasions. Had the guts to leave this town, thereby leaving its mediocrity behind. Now does IT for online porn; works as an extra; and views television-episode recapping as a viable life course. Could not recognize a friend if the supplicant sucked his cock, a recently-instituted substitute and prerequisite. With him, my feelings are the definition of "mixed."

My virus-inscribed friend. He had a depressive episode or psychotic break just after the reëlection of W. and has not been the same since, a fact denied to my face on a visit here. Latterly has had the gall to salute the survivors, though not of his own breakdown and betrayal.
You see how this started out with regret and ended with anger. Imagine how angry these old friends will be. (The librarian would just laugh.) Indeed, this is only gonna get worse, because it isn't just me.
Systemically
In an era where gay males are being written out of history, ostracized, and erased in queers' and transgenders' program of cultural genocide, the crunching you hear underfoot is of the shattered friendships of aging eldergays – the men laughably described as "survivors."
The foregoing posting appeared on Joe Clark's personal Weblog on 2014.04.01 11:36. This presentation was designed for printing and omits components that make sense only onscreen. (If you are seeing this on a screen, then the page stylesheet was not loaded or not loaded properly.) The permanent link is:
http://blog.fawny.org/2014/04/01/vieuxamis/